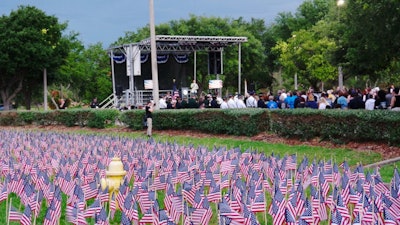 The United States Law Enforcement Foundation (USLEF) will host its annual memorial service to honor the police officers who lost their lives in the line of duty in 2022. USLEF, headquartered in Titusville, FL, is home to the American Police Hall of Fame and Memorial, where surviving family members and the public visit year-round to remember the country's fallen officers.
More than 1,000 guests are expected to attend the May 19 all-day event that culminates with a 7 p.m. memorial service at the National Police Hall of Fame and Memorial.
"Every year, it is our privilege to host family members and dignitaries from law enforcement and government as they come together solely to remember and honor the men and women whose lives were taken as they served their communities," says USLEF CEO Barry Shepherd. "We will read the names of more than 300 police officers as a small and poignant way of showing that their memories live on."
It is expected that officials from several agencies across the country will attend the memorial program, which begins at 7 p.m. Names of officers who lost their lives in the line of duty in 2022 as well as those with family in attendance will be read by their law enforcement brothers and sisters.
The solemn program will conclude with "Amazing Grace" performed by Brevard Police and Fire Pipes & Drums, followed by a gun salute by honor guard units from multiple agencies. The Atlanta Police Department's Honor Guard will be this year's service host. The Brevard County Sheriff's Office is the lead for honor guard services. The program also includes a flyover as well as a retiring of the colors.
"This is just another way to demonstrate our commitment to the professionalism and sacrifice that is part of law enforcement. We are indeed thankful and grateful for their service," Shepherd adds.
About USLEF
The United States Law Enforcement Foundation is a 501-C3, not for profit organization, that advocates and serves the law enforcement profession, a commitment that has continued for more than 60 years. Headquartered in Titusville, the Foundation houses several individual organizations, including the American Police Hall of Fame and Museum, the Memorial Rotunda which honors officers whose lives were lost in the line of duty, the National Association of Chiefs of Police, and the American Federation of Police & Concerned Citizens. These programs support the profession of law enforcement through advocacy, training, and education by introducing the general public to the daily realities of police work as well as providing services to the surviving families of disabled and fallen officers. Every year in May for National Police Week, the museum hosts thousands from law enforcement who attend our memorial service that honors the profession and remembers those whose lives were taken. For more information, visit https://uslef.org/.