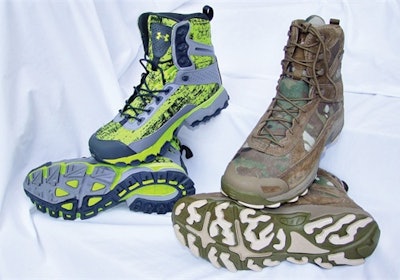 With the Valsetz and Speed Freak lightweight boots Under Armour has successfully transferred its training and running shoe designs into duty boots. If these boots hold up as well as Under Armour running shoes you will more than get your money's worth out of them.
One way Under Armour reduces the weight in its duty boots is by using EVA (ethylene vinyl acetate) for the midsole. The other great property of EVA is that it absorbs shocks, reducing wear and tear to the body.
Another thing I noticed about these boots is their aggressive outsoles. The soles give good traction on a wide variety of surfaces from mud to wet, oily paint on concrete. At the same time the sole is quiet on hardwood and concrete floors, a real plus in a police boot.
Under Armour's Valsetz and Speed Freak model boots look very similar. They both have a protective toe cap, both are eight-inch boots, both weigh approximately one pound, both have reinforced heel areas for support, both have padded collars for comfort, and both are available in black or tan for duty.
But there are some substantial differences between the two models. The Speed Freak is Gore-Tex-lined to keep your feet dry in the snow and rain, while the Valsetz offers a water-resistant mesh to keep your feet cool in hot conditions. You can have the Speed Freak in various camouflage patterns to match your duty gear, while the Valsetz is available in tactical black and desert sand, plus some other color schemes not suitable for duty wear.
I have worn the Valsetz on hot summer days and my feet have not been soaked from sweat, and here in the northeast we had some steamy days this summer. The Speed Freak boots were tested in near monsoon-like rains and my feet stayed dry. Both boot models are comfortable on the range, on hard surfaces, and when driving.
Under Armour did an excellent job designing its duty boot line. The boots are comfortable, priced to not break the bank, and exhibit the lineage of Under Armour running shoes in the best possible ways. With all that going for them, these boots should quickly develop a following for duty and off-duty wear.
Vortex Optics: Viper PST 2.5-10X44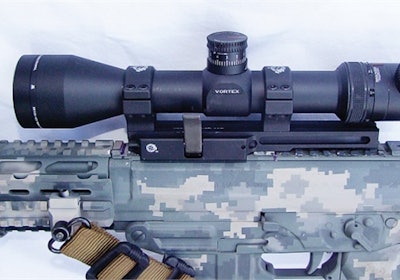 Law enforcement operators need versatile rifle optics that can be used for close-quarter combat and precision shots. A tactical team's precision shooter may be required to operate as part of the entry team and then later execute a precision shot without having the time to change optics. So these operators need scopes that can help them fulfill both of these missions.
Vortex's Viper PST 2.5-10X44 scope is a very versatile scope. It's offered with MilDot or radian ranging marks to suit your preference. I chose a MilDot because I have more experience with this style of scope.[PAGEBREAK]
One thing that sets the Viper PST apart from other scopes is the lighted reticle. There are off positions following each intensity setting so you don't have to run through the entire circuit to turn the reticle off or on. This allows you to adjust the light when moving from bright light to low- or no-light settings. The result is a sharp sight picture at all times.
The other adjustments on the Viper PST for vertical and horizontal impact are also innovative. While they give you quarter-inch impact adjustments like many scopes, there are also shims to prevent you from moving "below" zero. This might sound minor but in the heat of the moment you might return your scope to "below" zero, and your impact will not be where you aimed.
Another feature that I like about the Viper PST is the size. Unlike other working scopes this one is fairly compact. At 12 inches it is ideal for mounting on an AR platform, and the four-inch eye relief works well for precision applications or close quarters operations. You will also find that the four-inch eye relief will allow you to mount this scope on a magnum caliber without fear of getting "scope eye."
The last and most important feature of the Viper PST is the tube size and the quality of the optics. Its 30mm gives you excellent light transmission. This is something a one-inch tube will not give you in low-light conditions unless you have a larger objective lens. Thanks to the quality optics and adjustable ocular lens the Viper PST gives you a sharp, clear sight picture in most all lighting.
Vortex Optics' Viper PST gives the end user a lot of bang for the buck. The optic is rugged, clear, and priced not to savage your budget.
5.11 Tactical: Tactical Trainer 2.0 Shoes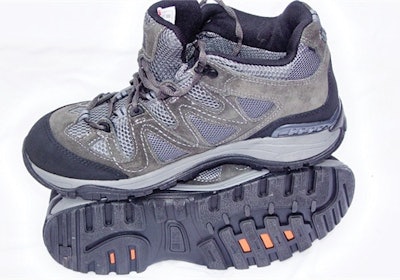 5.11 Tactical has offered police quality affordable gear for many years. Over the last decade, the line has expanded to literally outfit officers from head to toe.
Recently I tested 5.11's new Tactical Trainer 2.0 footwear. Fortunately, they arrived just prior to a daylong downpour. Since I had to do several errands and planned to get to the range this was an ideal chance to see if they are truly waterproof. I am glad to report six hours after I left the house, ran my errands, and took numerous trips down range to change targets, my feet were dry.
The Tactical Trainer 2.0 is not only waterproof but waterproof and comfortable, an excellent combination. 5.11 Tactical has truly made a hiking/cross trainer that feels like a running shoe and gives the support of a light-duty hiking boot.
But the Tactical Trainer 2.0 offers the end user numerous features that set it apart from hiking or running shoes. First is the anti-abrasion inserts on the heel and toe. These areas get torn up when you shoot prone and from simply kicking off your footwear. Next, the upper is made of a lightweight breathable nylon mesh with suede stress/support to reduce the weight of the shoes.
To give you support the midsole is EVA (ethelyne vinyl acetate), which is a durable, time tested material commonly used in athletic shoes. To give you stability there is a TPU heel wrap; it may not look like much but it works. The sole of the Tactical Trainer 2.0 has directional lugs. They give excellent traction on wet, muddy grass or bone-dry pavement.
I think 5.11 Tactical is onto something with the Tactical Trainer 2.0 Mid Waterproof. It looks good, fits well, and should serve officers well in many venues.