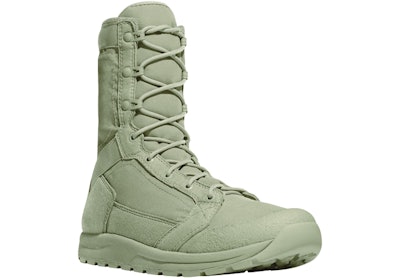 The good folks at Danner recently sent me a pair of their new tan 8-inch Tachyon military combat training boots. These are Danner's lightest endeavor to date, with the ultra-flexible boots weighing in at a mere 26 ounces. Danner is known for its rugged boots, but not necessarily for "tennis shoe" styles. Many of the newest boots on the market are shifting toward this style as boot manufacturers recognize the benefits these athletic styled boots can offer. The Tachyon boot is a fine example.
These boots are constructed of a mixture of synthetic leather-like material and nylon on the upper and a footbed made of polyurethane and rubber. This allows for superior breathability and good water drainage. The footbed and sole are sturdy and supportive without being heavy or too structured. Those of you familiar with a freestyle running shoe will understand what I mean here. The bottom is flat and features simple lugs for good traction. Throw in a good pair of nylon speed laces and a protective toe cap and these are as basic and functional as they come.
Right out of the box I was impressed with the Tachyon. Historically I have always been a "real boot" guy and try to stick to a solid, leather police boot with good arch support and a sturdy structure. As soon as I put these on I knew they were nothing like anything else in my collection of duty boots. The speed laces worked great and the boots fit like a glove.
Now, as I have experience with Danners, I knew ahead of time they tend to run narrow. I had them send me a wide pair and they fit great. Walking around the house for a few hours I almost forgot they were on my feet. They're so light and breathable my feet never overheated and the simple cushioning of the sole felt like I was walking on padded carpet and not the sole of a military boot. After a few hours I realized these boots do not need the break-in time most boots require so I took them off for the night.
The next day The Tachyons followed me to the "office" for 10 hours on the shooting range. I thought this would be the true test, as I was sure the uneven and rocky terrain coupled with the added weight of my armor and gear would certainly take their toll on my feet with an inadequate boot. I'll admit, I was skeptical at first but after a day on the range my feet felt great.
There were no noticeable pressure points while walking or running and the wider than normal toe box allowed for my feet to stretch naturally as I moved. The super light upper breathed extremely well yet provided just enough ankle support. At the end of the day the boots still looked like new with only a light coat of range dust on them, and the simple soles showed no signs of wear at all.
At a retail price of $140 they're just above some of their competitors but a bargain compared to most of Danner's offerings. Considering their quality I think they're actually a good bang for the buck. If you're looking for a tactical or military boot with a minimalist feel but still need the protection and durability that Danner is well known for, these just might be what you're looking for.
A.J. George is a motor officer and firearms instructor for the Scottsdale (Ariz.) Police Department.
Danner Tachyon 8-inch Tan Hot Military Boot Specs:
Height: 8 inches
Weight: 26 ounces
Upper: Complete synthetic ultralight upper for superior weight savings and dry time
Toe Cap: Abrasion resistant
Footbed: Open cell polyurethane for optimal airflow and superior durability
Midsole: EVA for shock absorption
Outsole: rubber, features pentagonal lugs for superior surface contact
Price: $140