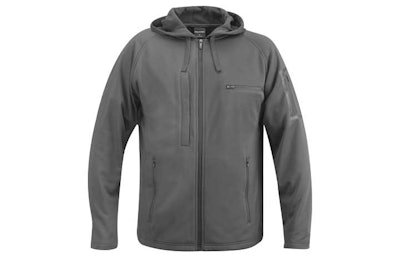 At this year's SHOT Show in Las Vegas I had a chance to stop by the Propper International apparel booth and check out some of the company's upcoming gear. I've been wearing Propper BDUs for years and have never questioned their quality and durability. But to be honest, I never thought beyond their line of utility clothing. As I entered the booth my impressions quickly changed. I was quickly greeted by a rep who showed me a little bit of everything in the Propper line. A couple weeks and a few e-mails later there was a box on my doorstep. I received a pair of Sonora pants and a hooded sweatshirt from the company's new "Sweep" line of covert clothing.
First, let's talk about the pants. The Sonoras are built like a pair of casual cargo pants with multiple pockets and a relaxed fit. What makes them stand out is the ultra-lightweight material from which they are made. The nylon rip-stop fabric is extremely breathable and flexible and the legs have an expandable cuff to accommodate boots. All pockets and seams are reinforced and the whole pair weighs in at mere ounces.
When I say these are the lightest and most breathable pants I've ever tried on, I'm not joking. The moisture-wicking fabric kept me cool and very comfortable all day. For tactical applications, hiking, or just everyday casual wear, the Sonora pants are downright awesome.
The 314 Hooded Sweatshirt is another one of Propper's newest offerings. I received one in charcoal gray and was instantly a fan of the styling. After exploring the many pockets and features I was totally impressed. At first glance this is a nicely constructed casual fleece sweatshirt. Look more closely and you'll see it was designed for concealed or off-duty weapons carry or undercover operations.
The garment features magnetic pocket closures with pass-through for quick access to gear, a pull-out badge flap on the left chest, and thumbholes in the sleeves to prevent bunching. I wore this off and on for a couple of weeks and not only did it remain wrinkle- and wear free, but it performed just as expected. On top of that it does what any good sweatshirt should; it kept me warm and very comfortable.
If you're like I was and think Propper is just a solid choice for BDUs, I urge you to take another look. The company's line has really evolved and, from what I've seen, it's definitely on the right track.
A.J. George is a motor officer and firearms instructor for the Scottsdale (Ariz.) Police Department.
Propper CCMF Sonora Pant Specs:
Durable ultra-lightweight nylon ripstop fabric wicks moisture away from the body
Rapid-access angled cargo pockets on upper thigh
Additional zip pockets on upper thigh for secure storage
Nylon pocket reinforcements
Expandable cuff for straight leg or boot cut fit with reinforced kick panel
Gusseted crotch allows greater range of motion
Back pocket for spare magazine or mobile phone
Sizes: 30x30—34x36
Colors: Black, khaki, olive, LAPD navy
Price: $59.99