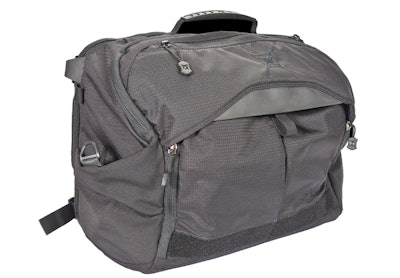 Although law enforcement is a unique profession, there is no escaping the paperwork and administrative tasks we deal with every day. Just like the old-timers told me when I was a rookie, "For every 10 minutes of fun there's 10 hours of paperwork." That might be a little exaggerated but there's definitely truth to it. Court paperwork, laptops, citations, and everything else seem to follow us everywhere, so the need for a quality professional briefcase or bag is obvious. The problem is most "professional" bags aren't designed around the need to carry some of the tools of our trade.
Vertx combined the best of a professional courier bag with the versatility every law enforcement professional needs to carry a variety of unique gear with the new EDC Courier. EDC stands for Every Day Carry and, just like the name implies, this bag is meant to follow you everywhere. At first glance, it is a stylish courier bag with plenty of room for paperwork, a laptop, some pens, etc. But tear into it and the tactical utilitarian elements are obvious.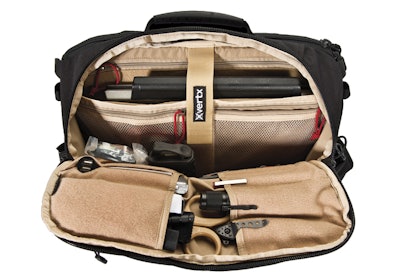 The padded rear of the pack unzips to reveal two huge rigid loop panels. It is basically a blank canvas to mount a variety of hook-backed holsters, mag pouches, and anything else you can think of. Moving forward to the main compartment the tactical disappears and is replaced by utility with ample space for folders and a laptop, combined with several elastic pockets to hold smaller items like charging cords and two zippered mesh dividers to keep everything organized. It's about as business minded as it gets.
Beyond the main compartment, let's get back into the tactical elements in the front panel. This is also where you'll see the coolest design features. The front panel has zippered closures on both sides that secure with two robust snaps and a Velcro strip at the bottom. Want to be covert? Leave it zipped up and secured and the plain front creates a clean look. Need a rugged MOLLE panel for mounting pouches and accessories? Zip down the front panel and tuck it under the interior MOLLE panel, then secure the bottom with the Velcro strip and you've just converted your clean "civilian" pack into a tactically minded workhorse. Swap it back again and you can conceal your gear in seconds. Genius.
The EDC Courier holds a maximum of 23 liters and can stow everything from a 15-inch laptop to a full sized pistol with ease. Made of heavy-duty nylon with robust zippers and pulls, this bag will serve you well for a very long time. Available in black, black with red trim, and smoke gray, the EDC Courier is available now direct from Vertx. If your assignment involves a little more paperwork than the average cop it is an excellent choice.
A.J. George is a patrol sergeant with the Scottsdale (Ariz.) Police Department who also serves as the SWAT team's crisis negotiation supervisor.
Sized to fit a 15" laptop plus a full sized handgun
Full fold, loop-lined concealment panel
Hide-out convertible reinforced front flap with MOLLE field
Insert-compatible reinforced internal pocket
1919 modular webbing on shoulder strap
Large top handle for easy grab-and-go
Ergonomic pull handle with optional name label
Pocket-lined front panel interior for smaller gear
Branded pulls on secondary zippers
Dimensions: 13" H x 18"W x 6"D
Maximum Capacity: 23 liters
Price: $179.95