David Tanasichuk, a resident of the small Canadian city of Miramichi, New Brunswick, called the police station in the midst of a blizzard in January 2003 to report his wife, Maria, missing.
Tanasichuk told the dispatcher that he and Maria had been having marital problems, and decided to spend some time apart. She had gone to a nearby city to stay with a friend, saying she would be in touch with his family and they would know how to reach her. Two weeks had passed, he hadn't heard from her, and he was getting worried. He said Maria had left on the 14th, but when a constable arrived to interview him, she got the date wrong, saying his wife had left on the 12th, and Tanasichuk agreed.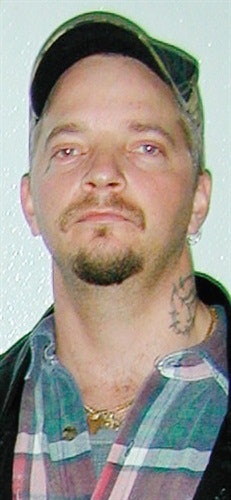 David and Maria Tanasichuk were well known to the police in this hardscrabble city situated on both sides of a wide river famous for salmon fishing, population 18,000. David had an extensive criminal record for robbery, assault, possession of prohibited weapons, and plotting to kill a police informant, a prosecutor, and a judge in an earlier case. Most recently, though, the Tanasichuks' contact with the police had been as victims, when Maria's son was killed at an end of summer party. In the process of helping them through the investigation and trial, the principal investigator, Det. Brian Cummings, had become close to the couple, occasionally bringing the grieving Maria treats and checking on their welfare.
The day following Maria's disappearance, Cummings went to see David Tanasichuk to get the details. What he found at the Tanasichuks' apartment shocked him. Instead of Maria's meticulous neatness, the place was in disarray, and David Tanasichuk was obviously under the influence of drugs. Tanasichuk said he had been calling around, both in Miramichi and in Saint John, where Maria had gone, looking for her. But though he said his wife had gone to visit her friend Kathy, he was unable to provide the woman's last name, phone number, or address.
Cummings arranged for David to come to the police station to give a formal statement with the details they'd need to start looking for Maria. Despite his expressed concern for his missing wife, it would be three days before Tanasichuk showed up to give that statement.
A Disturbing Picture
In the ensuing days, Cummings spoke with Maria's friends and relatives, and a disturbing picture began to emerge. He learned that David, who had struggled with drugs in the past, had been using again, despite visiting an addiction counselor. That Maria, who had kicked her own drug dependence years before, had been desperate to help her husband and had been doing everything in her power to keep him from getting drugs. She had followed him, monitored his contacts, searched his clothes and his pockets when he came home, and begged known drug dealers on the river not to sell to him. Friends told Cummings that a despairing Maria had finally given her husband an ultimatum: quit the drugs or the marriage was over. That despite Tanasichuk's assertion that they had agreed Maria would be the one to leave, Maria was a homebody, confined to her couch by grief, who was unlikely to leave the apartment because it had become a shrine to her dead son. And though no one knew any details, the dark rumors on the street were that "something bad" had happened to Maria.
In any investigation involving a missing wife, investigators will likely take a close look at the husband. In this case, though, the Tanasichucks were known as a loving couple with a relationship other people envied. They loved fishing and hunting together and riding through the woods on their three-wheelers. They didn't own a car, and they didn't work, though he was suspected of drug dealing. Their togetherness was, in Tanasichuk's words, 24/7. Police were still regarding him as a concerned husband when he appeared for his interview three days later. By the end of that day, though, his statements and demeanor, together with information the police had developed from other sources, shifted him to their prime suspect.
Tanasichuk told Det. Cummings that Maria was very proud of her jewelry and had taken it all with her when she left, and described specific pieces. Cummings had interviewed the local pawn broker and learned some of those pieces had been pawned or sold the day after Maria was last seen. Tanasichuk said that the addiction counselor had told he and Maria to spend some time apart. However, the counselor said her advice had only been to give each other an hour or two of space. She also reported that Tanasichuk felt overwhelming rages in which he wanted to kill somebody, and used the drugs to help him control those. Tanasichuk described in great detail the day Maria left—the constable's January 12th, not his initial January 14th—but she'd been seen by her neighbor and best friends several times in subsequent days. Perhaps most telling, Sgt. Fiander, who was observing the interview from another room, noticed that when Tanasichuk talked about Maria and her jewelry, he had used the past tense, saying Maria was the kind of woman who…
The Suspect
As for why he'd made the call on January 23rd, nearly two weeks after Maria disappeared? A chart of the month's weather answered the question: There had been no snow before that day. The police began to suspect that Tanasichuk had been waiting for a snowfall to cover up the body, and his tracks.
Still, they were puzzled. Why would Tanasichuk kill his wife when he could divorce her or simply walk away? Her best friend supplied the motive. Three years before, Tanasichuk had heard a rumor that Maria had slept with another man while he was in prison. Tanasichuk had confronted that man, and, Maria confided to her friend, he had killed him. As long as the Tanasichuks' relationship was going well, Maria's knowledge of the murder—for David had never been a suspect—was no problem. But if they broke up, would she continue to keep his secrets? The friend also revealed that Maria had begun to suspect her husband was responsible for her brother's mysterious disappearance.
From the moment Tanasichuk became their suspect, the investigation proceeded on two fronts: getting enough evidence to arrest him, and finding Maria. Tanasichuk was arrested and the apartment searched, including the dirt basement where Tanasichuk, who was a Satanist, kept his altar. There was no sign of Maria. With no body, and no conclusive evidence, Tansichuk was released, and the cat and mouse game began.
Cat and Mouse Game
It was winter. A witness' story of Tanasichuk making many mysterious trips on his ATV into the woods on the night Maria disappeared led them to believe that Maria had been lured into the woods and killed and that her body was hidden somewhere outside the city. But the woods were vast and her body could be anywhere.
The police surveilled their suspect, hoping he would lead them to the body. But Tanasichuk, an experienced woodsman and hunter, toyed with them, disappearing into the woods and walking for hours at night, while they tried to track him. That nocturnal surveillance included one memorable -20-degree night when several officers dressed in winter camo suits and hid along a trail with a spotter high on an industrial tower.
When the spotter's feet froze, he radioed the message: "I can't feel my feet. Talk to me so I'll know I'm still alive."
Despite hours of tramping through the woods, riding the trails, going up in planes to look for clusters of ravens, and keeping up the pressure on their suspect, they couldn't find Maria. Then an informant delivered some chilling information: Tanasichuk, known for his explosive temper, had become furious that his "friends" the cops didn't believe his story. If they didn't back off, he was going to make them back off by targeting their families. In such a small city, it was easy for him to find out where they lived. Alarms were installed in their houses. Their wives had to wear panic buttons at all times. For the next six weeks, at every law enforcement officer's home no children came to play; no friends dropped in to visit; and for the investigators, every time the phone rang, they expected the terrified message from a family member, "Come at once, he's here."
Car Chase and Interrogation
When word reached them that Tanasichuk was trying to buy a gun, investigators obtained a warrant. In a desperate attempt to protect their families, they "stole" Tanasichuck's friend's car in which Tanasichuck frequently rode, installed a wire, and began monitoring conversations.
Tanasichuck then disappeared for several days. When his voice reappeared, the conversation suggested he was on his way to pick up a weapon. Two teams of police officers scrambled into cars and assembled on the other side of town, where Tanasichcuk was believed to be. As the carrying Tanasichuck rolled toward them, they held a hasty conference: If he had the gun, they could arrest him and take the pressure off their investigation. If he didn't, they'd have blown the wire and would be out of options.
A high-risk traffic stop found Tanasichuk hiding in the trunk of the car, with a sawed off rifle and a homemade abduction kit, less than a mile from Det. Cummings' house. They brought him in.
After 11 tense hours of interviewing Tanasichuk, with many points when investigators felt that they just were moments away from a confession and from learning the location of Maria's body, they had to give up and settle for a prohibited weapons charge. It would take him off the streets for a few years, but they knew from Tanasichuk's history that if they couldn't find Maria and charge Tanasichuck with her murder, he'd be back looking for revenge. Tanasichuk went to jail on the prohibited weapons charge, and the investigators went back to looking for the body.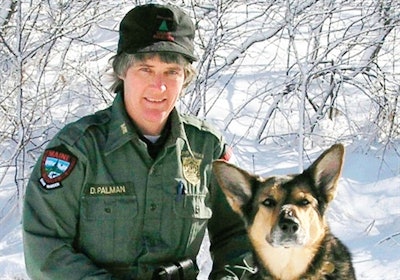 Cadaver Dogs Step In
Good investigators are endlessly creative. And relentless in their quest to get justice for victims. When their searches turned up nothing, Sgt. Paul Fiander, who headed CID, decided they needed cadaver dogs. That search led them to the neighboring state of Maine, the Maine Warden Service, and Lt. Pat Dorian, who headed search and rescue. Dorian was a huge advocate of the value of trained cadaver teams in locating bodies, and a fisherman with decades of fishing the Miramichi. He undertook the challenge of convincing his superiors that sending wardens and their K-9s to Canada would be a reasonable exercise of their international cooperation pact.
Lt. Dorian had surmised that Maria's body would be packed with snow and frozen. Once he got the green light, he started planning for a search effort to begin as soon as the snow melted and the body would begin giving off scent. As with so much of the case, planning was tense because of the need to time the search for when the body would begin giving off the scent the dogs needed to work, but before the time when bears, who would also be drawn by the scent, could find the body and consume it.
Finally, in May, Maine warden service search management experts, K-9 teams, and some volunteer handlers from Maine Search and Rescue Dogs (MESARD) arrived in Miramichi. The conditions couldn't have been worse. The air was hot and still, with no wind to carry scent. The woods were wet, filled with mosquitoes, and hollows still held pockets of snow. After three miserable days of slogging, the searchers covered 145 miles, and came up empty-handed. Watching them go, the discouraged investigators were wondering where they could move their families to keep them safe when Tanasichuk got out of jail. But Lt. Dorian remained optimistic that they'd find Maria, and he was already planning a return visit.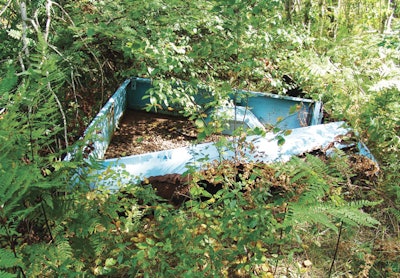 Hearing Voices
A few weeks after the Maine teams left, Maria's brother-in-law, Edmund Carroll, distressed by his wife's pain that they could not find her sister's body, asked the police for permission to search for Maria himself. He borrowed an ATV, drove to the part of the woods where the wardens had been searching, and spent several hours driving the snowmobile trails and logging roads. Unsuccessful, he was heading home when he passed an abandoned truck body at the side of the trail. He'd driven past and a ways down the trail when it seemed he heard a voice saying, "Go back. The gun. Search. Search. The gun."
Edmund Carroll was a simple man; a born-again Christian who did not hear voices. But this voice was so compelling he turned around, went back to that truck, and began to search. Shoved beneath it, he found a bundle, wrapped in a tarp and sealed with duct tape. He opened it enough to see that it held a gun, then shoved it back under the truck bed and went to the police station. The police returned with him and retrieved the bundle. It contained a sawed-off .22.
Lt. Dorian and the K-9 teams returned at the end of June. The weather was so hot they carried out their searches starting at 4:30 in the morning, resting during the middle of the day, and resuming late in the afternoon. Once again, two days of searches turned up nothing. Time was running out: they'd need to leave soon, to go back to Maine where tourist season always created a huge demand for search-and-rescue services.
As they were re-interviewing witnesses and studying their mapping, Dorian and the teams realized there was a block of land in the primary search area that hadn't been well-covered because it wasn't crisscrossed with trails. Warden specialist Deborah Palman was sent in to search, and 45 minutes later she radioed to the wardens and the Miramichi police that she had a find.
Six months after Maria Tanasichuk's disappearance, a female body wearing winter clothes and winter boots, and covered with brush and logs, had been found. Eight hours later, a cortege of the detectives who had worked tirelessly to find her carried Maria's body out of the woods to a waiting hearse.
Autopsy would show that she had been shot three times in the head—once behind her ear, once through her eye, and once in the middle of her forehead with a single-shot sawed-off .22. The bullets were matched to the gun Edmund Carroll had found. Apparently, when his love for drugs had outweighed his love for Maria, David Tanasichuk had lured his now inconvenient wife into the woods and executed her in cold blood.
It would take seven more years, two first-degree murder trials, two guilty verdicts, and a multitude of appeals before David Tanasichuk was finally convicted of killing his wife. But the tireless efforts of all involved in the investigation eventually led to justice for the victim.
For the full story behind the Maria Tanasichuk murder investigation read Kate Flora's book "Death Dealer: How Cops and Cadaver Dogs Brought a Killer to Justice." A former assistant attorney general for the state of Maine, Kate Flora is the author of 14 mystery and true crime books.