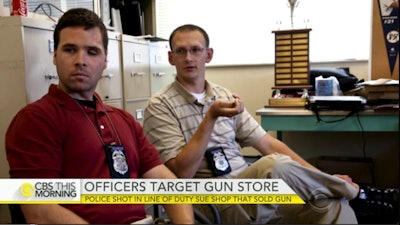 Jurors ordered a Wisconsin gun store to pay nearly $6 million on Tuesday in a lawsuit filed by two Milwaukee police officers who were shot and seriously wounded by a gun purchased at the store.
The ruling came in a negligence lawsuit filed by the officers against Badger Guns, a shop in suburban Milwaukee that authorities have linked to hundreds of firearms found at crime scenes. The lawsuit said the shop ignored several warning signs that the gun used to shoot the officers was being sold to a so-called straw buyer who was illegally purchasing the weapon for someone else.
Officer Bryan Norberg and former Officer Graham Kunisch were both shot in the face after they stopped Julius Burton for riding his bike on the sidewalk in the summer of 2009. Investigators said Burton got the weapon, a Taurus .40-caliber handgun, a month before the confrontation, after giving $40 to another man, Jacob Collins, to make the purchase at the store in West Milwaukee.
One bullet shattered eight of Norberg's teeth, blew through his cheek and lodged into his shoulder. He remains on the force but said his wounds have made his work difficult. Kunisch was shot several times, resulting in him losing an eye and part of the frontal lobe of his brain. He said the wounds forced him to retire.
Jurors sided with the officers, ruling that the store was negligent. Jurors ordered the store to pay Norberg $1.5 million, Kunisch $3.6 million and punitive damages of $730,000.
The officers' lawyer, Patrick Dunphy, told the Chicago Tribune Tuesday that he said his clients "feel very relieved," though he anticipates years of appeals.