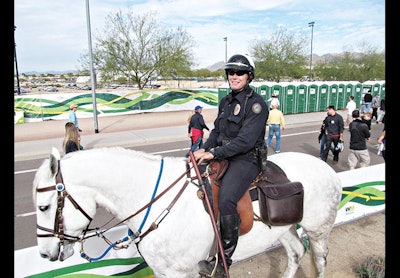 Much of my career with the Scottsdale (AZ) Police Department has been spent in special units. After working patrol for five years, I earned an assignment to the Parks and Preserve Unit, which was predominantly a bicycle patrol unit. Two years later in 2009, I transferred to the Bike Unit where once again I was on a bicycle, but now patrolled a more urban setting, including the city's Entertainment District.
It was there outside the nightclubs that I first saw the department's Mounted Unit in action. The Mounted Unit had the reputation of being where more experienced officers went to be "retired on duty." But what I saw firsthand on an almost weekly basis when I worked bicycles in the Entertainment District was the Mounted Unit working as a team to use its horses to break up fights, clear streets, and interact with the public in very positive ways. The men and women on the Mounted Unit were able to ride and control those horses in chaotic scenes in a way that made it look effortless. I've always loved animals and I knew after seeing the Mounted Unit in action that I wanted to give it a try.
Later that year my opportunity to do so came in the form of cross training between the Bike Unit and the Mounted Unit. All of the Mounted Unit officers at the time went through the weeklong International Police Mountain Bike Association (IPMBA) School. On a volunteer basis some of the Bike Unit officers also got to go to a two-day equine orientation training. I volunteered and was chosen to participate.
Learning the Basics
Up to that point, even though I loved horses, my experience with them had been fairly limited. As a kid we went to Western towns where there were horses to ride in small circles, and I rode cousins' horses at family reunions. But I had not received any formal riding training. That was about to change, and I was excited about it.
During the two days of cross training between the Bike Unit and the Mounted Unit, we spent a lot of time learning how to pick (clean) and check the hooves, groom the horses, and put on their saddles. It seemed like it took forever to get ready to ride, but that time did come when we were finally able to get out to the round pen and get into the saddle.
The horses Scottsdale uses for police work are predominantly draft crosses; think a Budweiser Clydesdale mixed with American Pharaoh the Triple Crown-winning Thoroughbred. They are big horses when you're standing next to them and even bigger when you get in the saddle. It was a little unnerving the first couple of times to be that high up.
The horse I was paired with was Zeus, a gray Percheron-Thoroughbred cross, whose back was about 5 feet tall. Atop Zeus, I learned about asking the horse to walk and trot, turn and stop, and how to balance myself on his back. Balance plays a major role in horse riding so that the rider can sit still in the saddle and subtly cue the horse with their legs and hands.
After that course, I was hooked.
Mounted School
In 2010 I was able to attend a 50-hour Mounted Patrol School put on by the officers of the Scottsdale PD. This was where the hooves really hit the dirt.
During this weeklong school, I was paired with Zeus and my riding skills were challenged and refined. I learned horses are such incredible animals, and I learned to work with their instincts when possible and how to ease them through mentally challenging times when their fears might try to override my cues.
Officers in this program had to be able to demonstrate basic control of the horse at all speeds. We had to be able to stop them, turn them, and move them laterally.
Integrated into our equitation training, we also had to learn patrol procedures from horseback. We learned to do everything from the saddle, including defensive tactics, shooting, formation riding, and tactical formations for crowd control, arrest techniques, traffic stops, and issuing citations (both parking and during vehicle stops).
The philosophy of the Scottsdale Police Mounted Unit is to be able to do all these things from the saddle because an officer has much better control of the horse while in the saddle and with the reins in hand. The only times we are supposed to leave the saddle on mounted duty are to directly assist an officer involved in a ground fight who doesn't already have backup or at an active shooter scene, where we would be some of the first officers on scene.
Reserve Rider
The school was exhausting for Zeus and me, but we passed the qualification course at the end and I was able to graduate.
Successfully completing my training granted me the privilege of becoming a reserve rider for the Mounted Unit. During this time, I rode a handful of patrol shifts in the Entertainment District and continued to train when my Bike Unit responsibilities allowed it. I got to stay paired with Zeus for most of those shifts and training.
The first time going on patrol I was very nervous. Almost all of the training we had done was on dirt in arenas. Now we were going to be on concrete and asphalt and around people, music, and whatever the night held for us. I still remember one of the senior mounted unit officers telling me, "The only thing you have to worry about tonight is staying with us and not falling off."
"Oh, is that all?" I remember thinking.
Fortunately, the training I had received proved effective. The night was woefully uneventful except for a few crowd movements to clear one of the streets in front of a nightclub at bar close. And I stayed with the other mounted officers and did not fall off.
In 2013 I got a chance to join the Mounted Unit full time. I could not pass it up.
Mounted Duty
Working with the other officers and the horses of the unit, I have responded to many large fights and chaotic scenes in the Entertainment District. We've also prevented such incidents.
When you are high in the saddle, it's easy to survey a crowd and sometimes you can see the fights beginning to boil before any pushing or shoving starts. When we can, we often mosey our way over through the crowd and have the people disperse before anything really starts. This may include squeezing the horses in between the people about to fight and then moving the horses laterally to move the people away from each other. This tactic is usually very effective, and we rarely have to make physical contact with the people we are looking to separate because they are intimidated by the size of the horses and willingly move out of the way.
There are currently five horses and four full-time officers on the Mounted Unit. We work year-round just about every Friday and Saturday night in the Entertainment District. There are about 17 nightclubs and bars in this four-block area and thousands of people flock to them every weekend. We also work major events in the city, including New Year's Eve, The Waste Management Phoenix Open, St. Patrick's Day, Cinco de Mayo, and Thanksgiving Eve.
Some of our best duty is community relations. We get to go to different schools and visit the kids. We attend festivals, ride in parades, do demonstrations at horse shows, and present the American Flag at rodeos. We also get to honor fallen officers by attending funerals and escorting the hearse from the cemetery entrance to the grave site.
Mounted officer is the most diverse work assignment I have ever had. It has also been the most rewarding. I have so many chances to make really positive contacts with citizens who want to meet and talk about the horses. And on the nights we patrol the Entertainment District, we have the ability to make a very powerful impact on those who wish to do other citizens or officers harm. In crowd situations the horses are very effective at moving people who may otherwise not respect officers on foot.
Zeus is still alive and well at the barn. But I'm now assigned to another large, gray, 10-year-old Percheron-Thoroughbred cross named Aiden.
Aiden was fairly new when I started riding him in late 2013, and he needed a lot of additional sensory training so he could feel more comfortable in the situations he was going to inevitably be put into with loud music. Three years and hundreds of hours of training later, Aiden and I work really well together as a team and trust each other immensely. We've made dozens of arrests, broken up multiple fights, and made hundreds of positive contacts with citizens. He gets a lot of attention because he is so tall and looks white. He is 18 hands tall (6 feet), at the withers. Aiden also likes to stick the tip of his tongue out when he is feeling relaxed and that looks quite comical.
Being a Mounted Unit officer has fulfilled two of my childhood aspirations. I get to work with and train a horse every week, and I get to be a police officer to serve my community, protect the public, and assist my fellow officers.
Officer Aaron Bolin has been a police officer with the Scottsdale (AZ) Police Department since 2002.