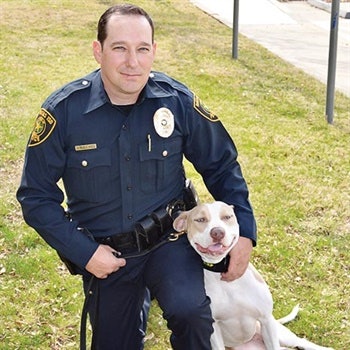 Dogs have been used in police operations since the earliest days of organized law enforcement. Over the centuries a wide variety of canines have been trained to be patrol partners. However, in recent years two breeds of dogs have been primarily favored for K-9 patrol duties: the German shepherd and the Belgian Malinois.
But that doesn't mean that other varieties of man's best friend can't be police dogs. It's not unusual to see a wide range of dogs—including bloodhounds used for tracking and cadaver recovery and Labrador retrievers and beagles used to sniff out explosives and illegal narcotics—working alongside police officers. And recently, a number of law enforcement agencies have decided to expand their K-9 ranks to include some unusual breeds and mixed breed dogs from shelters and dog rescues. There are now organizations that are funding the training of shelter dogs for police work or training and placing dogs with agencies.
Universal K9 (www.universalk9inc.com) has been training shelter dogs to serve in law enforcement since 2010. But that's just one aspect of the company's mission. "Our program is like no other and we produce more dogs and handlers per month (civilian side) than any other company profit or non-profit I know of," says Brad Croft, Universal K9's founder and operations director. Croft says to date Universal K9 has saved and placed hundreds of fully trained dogs with law enforcement agencies.
By saving dogs and donating them once they are trained for law enforcement operations, Universal K9 ensures the dogs are well taken care of and tax dollars are saved. "I realized I didn't need to buy expensive purebred dogs to do police work," says Croft. "I knew there were plenty of capable dogs in shelters."
Croft says this new concept has proven successful for both his company and law enforcement agencies. "Many times these dogs are overlooked by families and put down." He says that by adopting these dogs, taking care of them, and training them, Universal K9 is able to offer a service that helps unwanted dogs and also cuts down on costs for the law enforcement agency and the city where the dogs were sheltered.
Choosing Dogs
When searching for a shelter dog that will make a good fit for law enforcement operations, Croft says he looks for an animal with confidence, drive, energy, and the focus needed for the training and the job. "Many times the dogs that are overlooked by families work really well for our program," Croft says, adding that shelter dogs are primarily trained only for detection and tracking.
Programs focused on training shelter or rescue dogs for police work are increasing in popularity and that can be attributed to the work of the Animal Farm Foundation (AFF). A partner of Universal K9, AFF was originally founded as a horse rescue. However, when the founder adopted a pit bull, she realized the growing need to help dogs in shelters and rescues. (The majority of dogs in American animal shelters are bully breeds or bully breed mixes: Staffordshire terriers, American pit bull terriers, American bully, and Staffordshire bull terrier. All of these animals and dogs that look like them are commonly referred to as "pit bulls.")
AFF teams up with Universal K9 by providing the company with grant money. The funding goes toward covering the expenses of handler training as well as care and shelter for the dogs.
The Universal K9 training program provides constant activity for dogs with high play drives and excessive energy. "Once the dog is selected and evaluated for the program, it undergoes a four- to eight-week training in San Antonio (with Brad Croft of Universal K9)," says Stacey Coleman, executive director of AFF.
During the first week of the training program the dogs are evaluated for K-9 potential. "If during that time a dog does not respond well, Universal K9 or Austin Pets Alive! will dedicate time to find the dog a good home," Coleman says.
Dogs that pass the evaluation are taught a variety of tasks such as finding hidden toys and retrieving them. The dogs must rely on their sense of smell instead of their sight in order to complete each task. "Upon completion, the dog is professionally trained to seek out a variety of narcotic odors," says Coleman. "The dog is trained to provide sit and stare signals to the handler."
Currently, there are more than 20 pit bull-type dogs working as K-9s nationwide. The two most recent K-9 placements by Universal K9 are dogs named Storm and Athena. "Storm is serving the Ferris (TX) Independent School District Police Department," Coleman says. "Athena is serving the Dallas Independent School District Police Department."
The Dallas ISD is the second largest school system in Texas, responsible for 227 schools and around 160,000 students. The duty held by the Dallas ISD Police K-9s is to protect the students and promote safety by finding illegal drugs in the school locations. These detection dogs also help lift the spirits of the students as students are allowed to interact with the dogs when they are resting from duty.
High-Drive Dogs
Programs designed for rescuing and training shelter dogs provide high-quality K-9s for law enforcement agencies all over the country at no cost to the department. Utilizing dogs from shelters to become detection dogs saves canine lives and reduces shelter populations so more animals can be housed. Often the best candidates for law enforcement work in these shelters may not make the best pets. "This gives shelters an additional option for placing high-drive dogs who otherwise might not be a good fit for a pet dog in a home," says Coleman.
Experts say any canine with the appropriate characteristics and temperament may be trained for various public safety tasks whether it be rescue services, sniffing out narcotics, or other duties, regardless of breed.
Frank Kobel, a K-9 handler at the Cortez (CO) Police Department, says there are three main attributes or drives that a dog must have in order to make a good police K-9. "The three must-have drives are the play drive, the prey drive, and the hunt drive," he says.
The prey drive is crucial since this is a way of expressing the tenacity of the animal, the amount of fight in the dog. "A high prey drive dog would fight until it could not fight anymore," says Kobel. "They would hunt their prey until they could not hunt anymore."
Equally important is the hunt drive. For example, a dog with a high hunt drive would go to any length to find its toy once it has been thrown. The dog will not stop hunting for its prize until it is located.
Kobel says rescue dogs can benefit a police department because of the high cost of specifically bred dogs. Imported dogs such as Belgian Malinois can cost up to $25,000, while a rescue dog often costs under $200.
One way to determine whether a shelter dog is a suitable fit for a K-9 unit is to research and test the dog. This is a good way for law enforcement agencies to gauge the workability of a potential police canine. The dog must be able to fulfill each demand. "Training any Police K-9 is a time-consuming task," says Kobel. "To get a dog to the point of certification and being street worthy can take up to a year."
Much of the training and the amount of time it takes to train a dog depend on the dog, the trainer, and the handler. Kobel says once the dog is certified, training never stops. By federal standards there is a four-hour-per-week minimum. In addition to normal duties, most agencies exceed that number of training hours on top of performing regular duties.
Dual-Purpose Dogs
Pat Doyle, a supervisor and instructor for K-9s in Las Cruces, NM, says that the dogs he works with are trained and certified for specific tasks. "PSD1 dogs are trained to apprehend while PSD2 dogs are trained to track and search within surface areas."
For the Las Cruces PD as well as the Dona Ana (NM) County Sheriff's Office, K-9s are essential for search-and-rescue techniques. "They are keen on scent, and the more experienced K-9s are critical for tracking," says Doyle.
Dogs may be trained for several purposes or cross-trained for specific instances, including detection and rescue. Often the type of training a dog receives depends on the dog's temperament as well as its amount of energy.
Blending a variety of breeds for K-9 units is common among many police departments. German shepherds, Dutch shepherds, Belgian Malinois, akitas, Doberman pinschers, and Rottweilers are among the choices for dual-purpose patrol work. These breeds work well for both patrol and detection.
But some dogs are only suited for one mission. For example, the Lubbock (TX) Independent School District Police Department uses Labradors as single-purpose dogs. They are search dogs and very capable of finding just about any target.
Officer Daryl Kissell says search dogs are generally sourced from hunting and hound groups. These breeds include Labradors, pointers, retrievers, bloodhounds, and St. Bernards. Additionally, the breed of dog that is chosen depends on the nature of the work they will be doing. Kissell says all breeds of canines have been bred for specific purposes. However, as the need arose for canine help in instances with first responders, specific breeds have been favored for training.
Utilizing shelter dogs for a higher calling in law enforcement is a winning situation for all involved. These dogs bring additional, positive attributes and enhanced capabilities to the profile of K-9 units and law enforcement agencies all at very little cost thanks to organizations like AFF and Universal K9.
Hilary Romig is a freelance public safety writer. In addition, she has extensive law enforcement training. Hilary has recently accepted a position at the Lubbock (TX) Police Department.