AmpliVox Sound Systems
SW320 Mity-Lite Portable PA System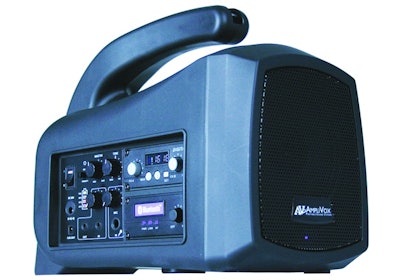 Made for durability and portability, AmpliVox's new SW320 Mity-Lite Portable PA System is a compact, SWAT team-tested PA designed to deliver clear, strong sound that carries over crowd noise and street activity. The weather-resistant, molded plastic unit offers advanced features including Bluetooth and two digital wireless microphone receivers. Use with AC power or run for up to eight hours on the built-in rechargeable battery.
Armor Express/Busch Protective
AMH-2 Bump/Impact Training Helmet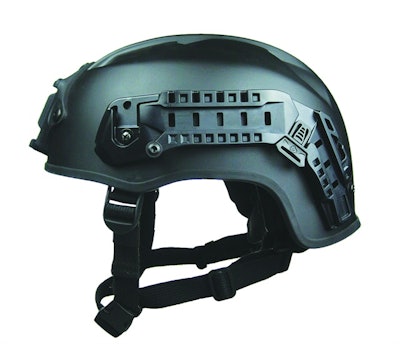 The Busch Protective AMH-2 Bump/Impact Training Helmet available through Armor Express is a non-ballistic platform designed to offer a high level of impact protection, ventilation, and comfort. The AMH-2 shell is certified to EN 397 for impact attenuation. With the company's latest Comfort Protection Pad suspension system, it offers multi-impact and shock protection. The helmet's retention system uses wheel dial technology to adjust fit and a new multi-function side rail also provides a speed-system connection point to add a modular protective visor.
https://www.armorexpress.com/busch
Armored Devices Inc.
Police Head and Neck Protector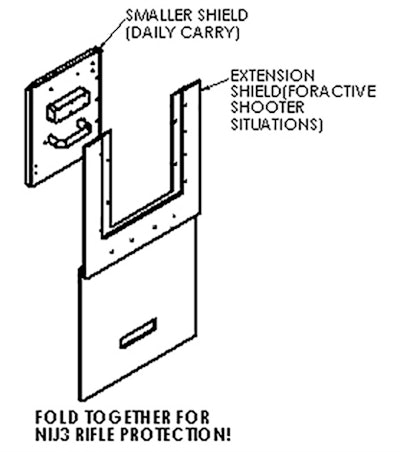 Armored Devices Inc. has introduced the small Police Head and Neck Protector(PHNP) ballistic shield. Weighing in at 2 pounds, it is light enough for daily carry. The novel, patent pending design allows it to connect to a larger extension shield for full body coverage. When connected, the two shields are referred to as the Police Body Protector. When folded together, the NIJ Level IIIA shield converts to an NIJ Level III shield for rifle protection.
https://www.armoreddevices.com
ASP
Talon Batons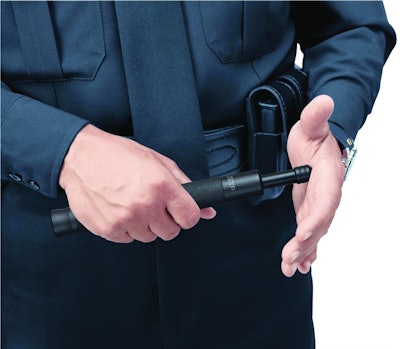 ASP Talon Batons, available in a variety of lengths, materials, and finishes, feature a push-button release that makes them advantageous in riot or crowd control situations. They can be drawn, deployed, closed, and holstered with one hand, and without having to bend down to "combat close" by driving down onto a hard surface. This keeps one hand free to hold a shield or perform other functions, and allows the officer to remain standing and/or moving at all times.
BulletSafe
RiotReady Riot Gear Bundle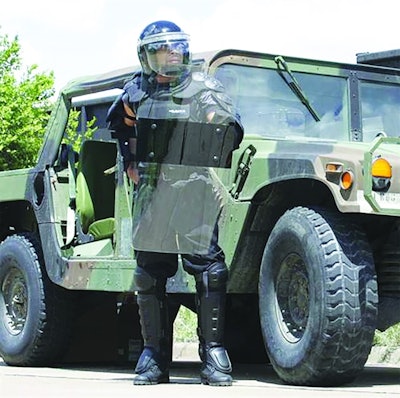 The team behind BulletSafe Bulletproof Vests has just launched RiotReady Riot Gear, designed to provide great value. The RiotReady bundle includes a RiotReady Riot Shield, RiotReady Riot Helmet, and RiotReady Pad Set (shoulder, leg, and arm pads). Purchasing these items as a bundle saves money when compared to buying the items individually. RiotReady Riot Gear does not include a chest or back protector because it is meant to be worn with a BulletSafe Bulletproof Vest or other bulletproof vest. The combined set of RiotReady Riot Gear weighs 16.2 pounds.
https://www.bulletsafe.com/collections/riotready-riot-gear
Defense Technology
40mm Pyrotechnic Chemical Munitions

Defense Technology 40mm Pyrotechnic Chemical Munitions are designed for crowd direction and control, marking, and obscuration. They deliver a pyrotechnic smoke or irritant payload downrange to specified distances: 100, 200, or 300 meters. The spin-stabilized projectile and smokeless propulsion system produce extremely consistent velocities and range to the target, and are designed to travel to their respective distances when the launcher is held at a 30-degree elevation angle. Available in OC, CS, or Saf-Smoke payloads.
https://www.safariland.com/our-brands/defense-technology
Monadnock
SX24/36 Expandable Riot Baton

Monadnock's SX24/36 Expandable Riot Baton is a positive lock expandable straight baton that uses a push-button mechanism to keep it open and easy to use. The baton locks in the handle and may be locked in the extended open position with the push of a button. The frame is constructed of aircraft-grade aluminum with a black polycarbonate shaft to make it impervious to rust. It features a knurled grip and 1 1/4-inch diameter. Length is 24 inches closed and expands to 36 inches in the open position; it can be used as a straight baton closed and a riot baton in the open position.
https://www.safariland.com/our-brands/more.../monadnock/
Point Blank Enterprises
Advanced Riot Control Helmet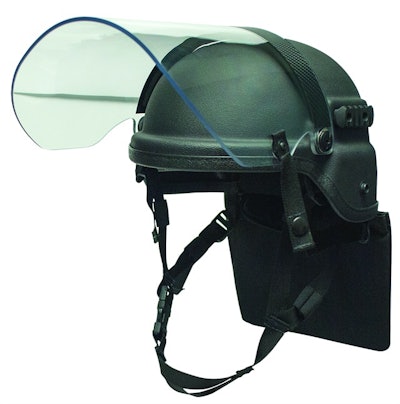 Point Blank Enterprises' Advanced Riot Control Helmet (ARCH) is designed to provide outstanding protection and extreme comfort. It features an optically clear, UV-resistant, polycarbonate face shield with a spill-proof rubber seal. The ARCH is made to provide exceptional high-level impact protection with excellent optical properties. It meets or exceeds NIJ Standard for Blunt Trauma for Riot Helmets NIJ STD0104.02. Accessories include face shields in standard, grid, or gas mask versions.
https://www.pointblankenterprises.com
Sabre Red
MK-60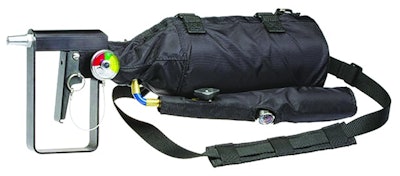 The Sabre Red 1.33% MC, 56-ounce MK-60 High Volume Streamer and MK-60 Refill deploys 30 full one-second bursts at a range of 30 to 35 feet. The MK-60 aerosol crowd management projector is designed to be fast, safe, and easy to refill and use. With its external port, the MK-60 can be quickly filled online or on the way to a disturbance. It has a five-year shelf life and heat specifications are ensured via an in-house High Performance Liquid Chromatography Laboratory.
Venture Ballistic Composites Inc.
Robo Ballistic Shield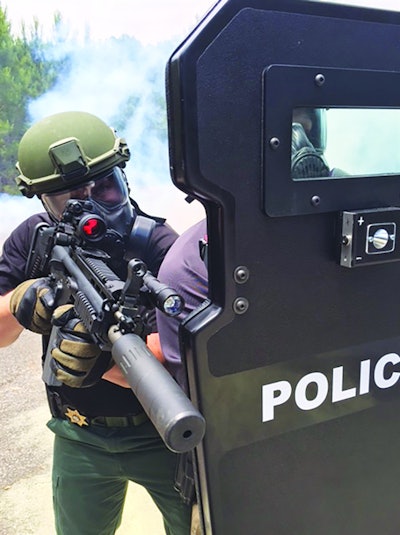 Venture Ballistic Composites' Robo Ballistic Shield is offered in both Level 3 and 3A and tested to NIJ Standard 0108.01. The shield dimensions are 20x36 inches with a 4x10-inch view port and a weight of 32 pounds. The shield's proprietary shape allows the user to operate a handgun using recessed arm cuffs for faster, more accurate view port acquisition. The shield is waterproof, comes with a seven-year warranty, and works well for patrol and school police, as well as SWAT.