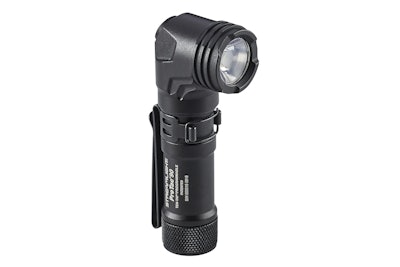 You military guys out there will remember those old-school 90-degree anglehead flashlights you were issued back in the day. Big, heavy, and about as bright as a cigarette lighter, these workhorses weren't great at putting out usable light. That isn't to say the design wasn't quite clever. Fast forward a few lifetimes and that same smart design has seen a major overhaul in the form of the new Streamlight ProTac 90.
One of the premier manufacturers of illuminators, Streamlight seems to come out with a new light almost daily; each one slightly different than those before it. The result is an arsenal of flashlights to accommodate any task. The ProTac 90 fills the space that the old anglehead tried to occupy for the better half of the last century, only this time it comes in a much smaller package with a much bigger punch. Weighing in at under 3 ounces and with a length of under 4 inches, the ProTac 90 is a very small light by any measure.
Designed to be clipped to gear, the anodized aluminum body is smooth with the only knurling found on the end cap. The ProTac 90's clip is very clever and allows the user to mount the light rightside up or upside down without making any changes to the configuration. The diameter of the body is also just small enough to squeeze it through a MOLLE loop. Activated by a single rubberized button just behind the bezel, the ProTac also features Streamlight's unique "Ten-Tap" programming, which allows the user to lock in a particular light setting. No more scrolling through the high/low/strobe modes to get what you want.
Streamlight ProTac 90 Flashlight
Streamlight ProTac 90 Specs:
Attach to MOLLE, belts, harnesses, or other gear for hands-free use
IPX7 waterproof to 1m for 30 minutes
Brightness: 300 lumens (CR123A battery) on high
Battery: single aa lithium or alkaline battery
Length: 3.78 inches
Weight: 2.80 ounces (with CR123A battery)
Price: $68
www.streamlight.com
All of this is great but the coolest thing about the ProTac 90 is the "multi-fuel" feature. That's right, this light runs on three different kinds of batteries. Got a AA alkaline, AA lithium, or CR123 lying around? Take your pick! With the AA batteries the ProTac will give you up to 125 lumens and a runtime of 2.75 hours (alkaline) or 5.5 hours (lithium). Upgrade to a single CR123 and the light performs much better with a blinding 300 lumens but your runtime drops to under 2 hours. The runtime is significantly longer all around on the low setting and there's also a strobe feature if you ever find a need.
My ProTac 90 immediately found a home on my heavy tactical vest and it has been an amazing workhorse. The light is easy to operate, has perfect brightness, is incredibly durable, and the multi-fuel options have proven to be a lifesaver. If you need a wearable work light, look no further. The ProTac 90 is widely available now and worth every penny. Take a look for yourself at www.streamlight.com.
A.J. George is a sergeant with the Scottsdale (AZ) Police Department who is assigned to the Technical Operations Unit, Special Investigations Section. He has more than a decade of law enforcement experience in patrol, field training, and traffic enforcement.