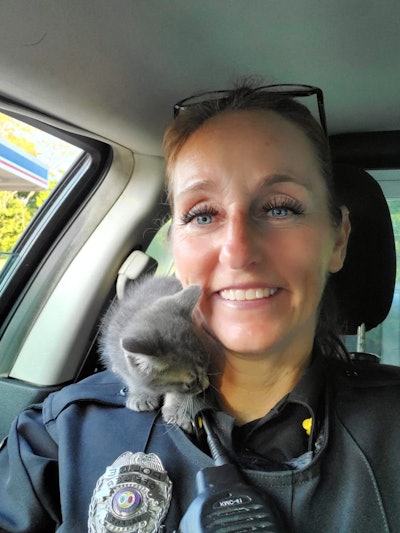 An officer with the Gaffney (SC) Police Department was working the scene of a traffic collision when she heard a tiny little "meow." She shone her flashlight around and discovered a small grey kitten.
Officer Jennifer Terrell Dotson mimicked a meow and the little creature ran toward her.
Dotson posted an image of the animal sitting on her shoulder on Facebook with the caption, "Soooo, last night I had to work traffic for a bad wreck. As I was in the intersection (8 lane), I heard a small meow. I shined my flashlight over and saw 2 reflective eyes looking at me. I meowed back."
The social media post continued, "Surprisingly, this teeny tiny little kitten came running to me across the entire road, crawled up my leg and sat on my shoulder while I directed traffic. Anything that brave deserves a chance. Meet Bravely."