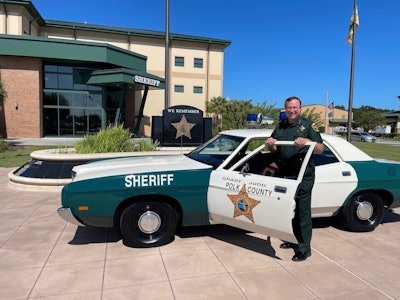 It's not uncommon for many employers to honor those that make a commitment and stay for 10, 20, 30 or more years. But for the Polk County Sheriff's Office (FL) it was a challenge to find any recognition befitting Sheriff Grady Judd, a man with 50 years of service and dedication to the department and the community.
However, Polk County Sheriff's Office Chief of Staff Steve Lester found a way to surprise his boss and longtime friend. Why just present a plaque when you can also unveil a 1972 Ford Galaxie patrol vehicle like the ones in use when Judd first joined the department?
One of the sheriff's longtime friends from the St. Johns County Sheriff's Office, Steve Berman, found the car several years ago. Plans had been ongoing to one day have it restored but finding parts for a 50-year-old car can be a challenge, says Lester.
The sheriff knew restoration of the car was coming along nicely, but to Lester's surprise the restoration was completed a little earlier than expected.
See, Lester had planned to unveil the car when the sheriff hit the 50-year mark in July. He wanted the big reveal to be at the staff meeting Aug. 1, yet just ahead of that meeting the sheriff asked Lester if the car was completed.
It was ready, but the chief of staff needed to keep it under wraps. So, he told a little fib as he reported the car was not completed because red lights had been shipped instead of blue lights. "I told him, 'They must think we are an ambulance service'," says Lester. But that stalled the sheriff just long enough to not spoil the surprise.
The day of the staff meeting, Lester presented a 50-year service plaque to the sheriff.
Even that posed a challenge, since the sheriff is the one who usually signs such service recognition plaques. He couldn't be asked to sign his own plaque. So, Lester contacted Gov. Ron DeSantis' office and the governor provided a copy of his signature to be placed on the award recognizing the veteran lawman's 50 years of service.
While the sheriff's office leadership was gathered for that meeting, the Galaxie was moved into position to be a surprise for the sheriff when they walked out.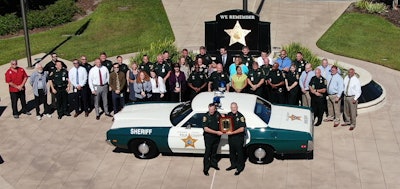 The Big Reveal
"The chief of staff said 'Hey y'all come out front because there's something I want to show the sheriff.' I went out there and sure enough, there's the car," Judd says. "It's remarkable because I had photographs of that car."
The sheriff said back in the day there were three different paint designs used by the Polk County Sheriff's Office, but elaborate research was done to see which one was used on the 1972 Galaxie.
"I think the most surprising thing to me when I sat down in it was how skinny the steering wheel was. I had totally forgotten how large the steering wheel was, it was large, and it was very thin. So, it was kind of a flashback in time," Judd says. "And I thought dad'gum, I don't even remember that the steering wheel was this flimsy."
"So, it is exactly like it looked back in the day," the sheriff adds, however it is not equipped with the pursuit package.
The sheriff explains they had searched two or three years before locating a car for the restoration project. It is a hard car to find, and the ones that were patrol vehicles and had pursuit packages are nowhere to be found. Those, Judd says, were sold at auction and buyers shipped them to South America, Cuba, and some places in the Caribbean islands to be used as taxi cabs.
"So, we couldn't actually find the police package. It just didn't exist," he says.
But the former civilian vehicle now turned law enforcement vehicle is properly decked out with style, including the roof-mounted bar with two blue lights and a siren.
"We had an assortment of light bars back in the day, but that light bar that we got for that car, we got from Steve Berman, that is the exact light bar that we had on our cars," points out Judd. "But you think about it, back in the day that siren sat right over the top of our head. And then later on, they put that siren directly against the roof of the car when they put a four-bulb single rotating light above us."
"I can even remember back in the day you arrived at a call from running emergency mode and your ears were ringing, because the siren was right on top of your head," says the lawman of 50 years.
Prop Car to Cop Car
When Berman found the Ford Galaxie in New York it was painted to look like a NYPD patrol car and had been used as a prop car in television and movies, including the movie "American Gangster." He purchased the car after finding it in 2014, shipped it to Florida, and gave it to the Polk County Sheriff's Office.
Through the years, the sheriff's office had sought out someone to restore the old Ford, but nobody seemed to be able to get the job done. That was until Tom Roche, of Tom Roche Hot Rod Service, took on the job. The sheriff explains that the restoration team even had to custom manufacture some parts that were no longer available.
"It looks like you just drove it off the showroom floor. It is perfect. I mean, the gentleman that redid it, it is absolutely perfect," Judd says.
With a professional hot rod restorer doing much of the work, Berman and the sheriff still had a hand in making sure the Galaxie was outfitted properly. Judd says since Berman collects antiques sirens, lights, and other equipment he was instrumental in sourcing key items.
The sheriff wanted to have the car equipped with the same radio from back in 1972. Judd was able to locate and acquire a Motorola Mocom 70 FM radio, which he describes as the same radio you see on old episodes of "Adam-12."
When all the pieces of the puzzle came together, a recreation of a 1972 Polk County Sheriff's Office patrol car was born.
"It really has a style. There's a real nostalgia element to it all. It's pretty cool," says Judd.
All was accomplished at no expense to the taxpayers, the sheriff points out. Berman donated the car and restoration expenses were covered by Polk Sheriff's Charities, Inc.
What Now?
After the car was revealed at the memorial outside the entrance to the PCSO Sheriff's Operation Center in Winter Haven, it was left on display for a month.
"Car enthusiasts came from all over as well as the community," says Judd.
Now, the Galaxie is sheltered and safe from the weather and will be kept in pristine condition. However, Judd foresees it being used in parades, car shows, and other community events.
But he says he has no plans of running the siren much with it located over his head.
Longevity Advice for LEOs
In today's environment when many are leaving law enforcement, what advice would Judd share with early career officers about what it takes to serve in the profession for half a century?
"Be honest, ethical, and moral all of the time. Deliver customer service with a sense of urgency. Find a wonderful, significant other and spend a lifetime with them. For me, my wife put up with the long hours. I worked undercover organized crime where I was gone days at a time. I've been shot at, stabbed at, crapped at. It's a stressful job. You can't be successful by yourself," explains Judd. "You have to have a partner that's understanding and loves you and accepts the fact that you're going to miss a lot of Thanksgiving dinners, anniversaries, and birthday parties in order to keep the community safe."
"But you work hard, and it works out," he says. "I'm still doing it. Today, like most days, I woke up before the alarm goes off to come to work. I am still as energetic and excited about working today and being the sheriff as I was a long time ago."
For Judd, he just doesn't envision a day when he will not be sheriff and he plans to continue to serve his community until taking his last breath.
"I won't slow down until I am dead. I said you can tell when I'm retiring from the sheriff's office, and they said 'how.' I said well, you look up and they'll be bringing me out of the office in a pine box and putting me on a red fire truck backed up to the front door. They said, 'a red fire truck' and I said yeah, I always wanted to ride on a fire truck," says Judd.