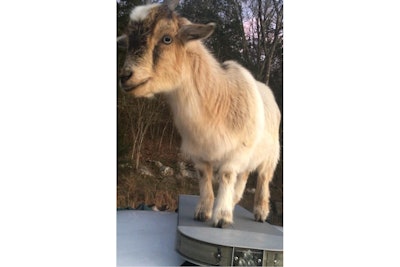 An Alabama deputy serving papers Friday came back to his vehicle and found cute justice obstructors.
A goat was inside chewing on his paperwork and another goat was standing on top of the roof.
Madison County Sheriff's Deputy Casey Thrower explained that due to the number of homes he visits daily, on occasions he leaves his vehicle door open because he's had to retreat from being attacked by canines in the past, the agency said on Facebook.
The sheriff's office reports that "Deputy Thrower has been serving the citizens of Madison County for about 40 years and is considered one of our G.O.A.T deputies." The acronym G.O.A.T. is used in sports and entertainment to signify the "greatest of all time."