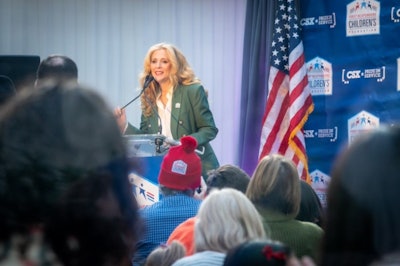 Although only available in five states at this point, there is a new program providing free mental health and counseling services to children of first responders.
First Responders Children's Foundation (FRCF) provides programs that benefit children including scholarships for children of first responders who have lost a parent in the line of duty, providing financial assistance for first responder families enduring financial hardship, and offering bereavement assistance. More recently, FRCF has launched a new focus on providing for the mental wellbeing of children of first responders.
First Responders Children's Foundation Resiliency Program launched in May. It provides expert mental and behavioral health counseling at no cost to children of first responder families. For first responder families the program is confidential and developed to help their children manage, process and deal with a range of emotional challenges specific to their unique needs. FRCF considers first responders as police, fire, sheriff, emergency medical personnel. and 911 dispatchers. Children of retired first responders also qualify for the free service.
"Mental and behavioral health is a real issue around the country facing everyone considering what's been happening, post COVID, the pandemic, the fires, the civil unrest. All the things that have been happening have affected the children," says Jillian Crane, FRCF CEO. "We feel strongly and heard from the first responder community that their children have been impacted by all of that, and the fear that their parent gets up every day and goes out into the world to serve other people and their community and they have a lot of fear and anxiety and other issues."
The organization rolled the resiliency program out in five states – New York, Tennessee, Florida, Texas, and California - to begin, but Crane says they hope it will expand to others.
"We have counselors that have been trained in the unique needs of first responders' children. I think they have this specific kind of life, and they deal with a certain kind of stress. And so that's what we're here to address in that particular program," Crane explains.
When a first responder parent in one of the five states wants to pursue the free counseling for a child, the parent can either call the organization or complete a form on the FRCF website. Then, the information is forwarded to a counselor who in turn contacts the family within 24 to 48 hours, says Crane. The counselor will make contact and see what will best work for the child whether it be virtual or in-person counseling.
"It's really an easy process and it's confidential," says Crane. "We found in the talking to first responders this needs to be confidential, it needs to be at no cost, and it needs to be appropriate for children and specific to children of first responder families," says Crane.
Crane says there is help available if a child is experiencing anxiety, if they don't want to go to school, if parents are seeing a change in the child's personality, or if parents just want to have a couple of sessions with a therapist just to see how their child's doing.
FCRF Founding
Following the Sept. 11 attacks on New York, Al Kahn realized that 800 children had lost a first responder parent and would be without them at Thanksgiving. So, he organized a Thanksgiving Day gathering in New York for those families. From there, FRCF has expanded and grown to now have nationwide reach while offering a variety of programs and services.
Scholarships
For two decades FRCF has awarded college scholarships to children of first responders. Scholarships provide a maximum award of $6,250 for a single academic year. Awards are based on financial need, academic merit, and achievements such as demonstrated leadership, excellence in the arts or sports, or volunteer activities benefiting the community.
Financial Assistance
Individual grants support children whose first responder parents have lost their lives or sustained serious injuries in the line of duty.
The Individual Financial Hardship Grant is designed for first responders who are in dire need of financial assistance related to housing distress, extenuating childcare/eldercare expenses, and medical and/or mental health expenses related to your position.
The First Responders Children's Foundation Emergency Response Fund will provide access to emergency financial assistance for unforeseen medical expenses as well as food, supplies, rent, mortgage, utility, and childcare assistance.
Bereavement Assistance
Since Sept. 11, 2001, First Responders Children's Foundation has provided assistance to first responder families during tragic times. When a first responder dies, whether line of duty, off-duty, retired, or when a first responder tragically takes his or her own life, FRCF is committed to honoring those heroes and providing support.
Toy Express
The First Responders Children's Foundation's Toy Express delivers more than 250,000 free holiday toys to first responder agencies and hospitals which then distribute the holiday cheer to children of first responders and to children in first responder communities.
Mask Project
The First Responders Children's Foundation Mask Project provided masks to first responders across the country through the help of MaskClub by Trevco. More than 875,000 masks have been shipped to 625 first responder agencies across the country.
Power of Play
The Power of Play program was created to encourage children, first responder agencies, and community leaders to engage, be creative, be imaginative, and disconnect from the screen and participate in creative individual activities as well as physical, outdoor health and wellness activities.
More than 100 basketball courts and soccer fields are being revitalized and transformed across New York City as a gift to children from law enforcement and new play areas created as well. The program is organized by the City of New York Police Department (NYPD) in collaboration with the United States Drug Enforcement Administration (DEA). Charity partners include First Responders Children's Foundation, House of Mandela Family Foundation and New York City Police Foundation.