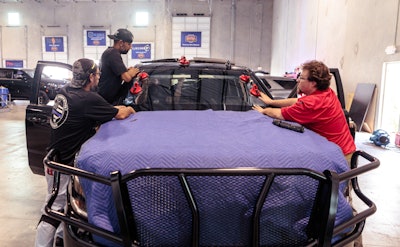 More and more agencies are adding front and side ballistic window protection to better shield officers from gunfire when they are attacked in their vehicles.
There once was a time when ballistic vests were new and not widely accepted by officers, but now vests are the norm. Patrol vehicle ballistic protection now sits at a pivotal point where it is not standard with all departments, but more agencies are moving in that direction.
The Elwood Police Department, a small Indiana department of just 19 officers, lost its first officer in 90 years July 31 when a gunman ambushed Officer Noah Shahnawaz during a traffic stop and fired 36 rounds. He never had a chance to unholster his duty weapon.
Soon after the fatal ambush, Elwood Police Chief Jason Brizendine took steps to provide better protection for his officers. The chief decided to install bullet-resistant windshields in all the department's patrol vehicles.
"I wasn't even sure of the route to go because you just don't hear of that with windshields. You have door panels and side windows, but I never had heard of a windshield for a regular police car that was ballistic for the curvature and everything like that," says Brizendine.
The chief researched the idea and on the Sunday after Shahnawaz's funeral found a company that could supply ballistic windshields. He emailed and immediately heard back from equipment supplier Dana Safety Supply.
"After a little bit of research that week, I made the decision to order from them," Brizendine says. He was put in contact with the Texas Department of Public Safety (DPS), an agency that has researched the topic and now is equipping its vehicles with ballistic windshields. "I was able to kind of piggyback off of their research that they had done."
The chief had money in his police department budget for the ballistic windshields, but still needed approval to move forward.
"When I walked into the board of works meeting to get their approval to be able to spend the money to purchase these, they were quickly a unanimous vote," the chief says. For Elwood, the windshields will cost an average of about $2,000 per vehicle. "We spend twice that amount for computers in the cars," Brizendine says, arguing that the cost is not prohibitive.
Protective Windshields
"Given the location and what they went through recently, I immediately answered him and told him that our hearts went out to him, and we would be very happy and proud to help him," said Thomas Sabo, general manager of marketing and business development at Dana Safety Supply, who replied to Brizendine's email.
Sabo has been in the industry for about 30 years and recalls 25 years ago there were early ballistic replacements for windshields and side glass, plus armor for the interior door panels. But back then, the concept did not catch on.
"I just couldn't get any interest or traction on the product. It just wasn't the time. It's kind of if you think about it from a timeline standpoint, back in the 70s when Second Chance initially came out with ballistic or body armor most cops were saying 'Yeah, I'm never going to wear that'," says Sabo.
Several decades later, now body armor is commonly accepted in law enforcement.
"So, I believe that we're in a place that the armor industry is moving in the direction of putting armor where it's really needed. I believe we're at a turning point to where we're going to see armoring of vehicles very prevalent moving forward," he adds.
Sabo explains initially police departments were looking at ballistic protection for vehicles as costly, but now departments are finding it's something that they may put in their budgets because of the recent attacks on officers.
"I think we're just scratching the surface on where it's going to go. I think the percentage of doors and windows and windshields that are armored in the country is miniscule compared to the actual cars on the road," Sabo says.
Proving Protection
Dana Safety Supply works with several glass manufactures that produce ballistic windshields to their specifications and another vendor for the side window glass. No standard certification exists for ballistic glass, however, ballistic glass is commonly categorized by the equivalent National Institute of Justice (NIJ) terminologies for armor protection ratings. Ballistic windshields are a glass-resin-film hybrid and Sabo says they are designed to stop handgun rounds.
"The glass is tested to Level IIIA standards, although there is no current NIJ test standards for ballistic glass," explains Sabo. "The majority, and probably close to 100% of agencies, are going with a Level IIIA product. Level III product and Level IV product is available, but when you get to the Level III and Level IV product the vehicle modification can get rather extensive and the visibility can be affected as well."
If an agency decided to use Level IV, it would be thicker, heavier, much more costly, and require extensive vehicle modification. To handle such heavy ballistic protection, Sabo says a department would need to change drivetrain parts of the car because of added weight.
For the Level IIIA windshield and side glass there are some minor modifications needed to the vehicle. The ballistic windshields do not allow return fire by an officer, but ballistic side windows do. The company also works with Angel Armor to provide Level IIIA ballistic door panels..
"Back in the day, you would look at that expense as prohibitive. These days, you'd have to look at it as necessary. It's just an important part of the equipment package and if you quantify it over the five years of the vehicle, it's kind of negligible," he says. "Frankly, it's the time. Certain products have a time where all of a sudden, they become very, very viable."
Dana Safety Supply is working closely with Texas DPS to install ballistic glass in a large portion of their fleet and also has helped many other departments of all sizes. Some departments update an entire fleet of vehicles at once while others choose to add ballistic protection into new builds as older vehicles are retired.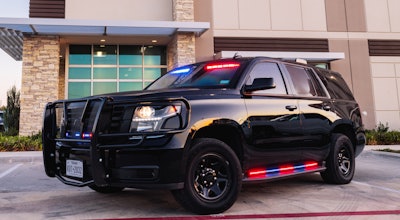 Protecting The Flanks
About seven years ago, officers were being shot while still in their patrol vehicles frequently in the larger cities and one company took note, then action.
Officers in New York City and Philadelphia are better protected from gunfire from the side through the help of Hardwire LLC, a company that offers Level IIIA B-Kit armored door panels and Level IIIA transparent armor window inserts.
"We had seen the officer assassinations up in New York City and just figured we could help; we could do something different because the officers were being shot through the window or through the doors fairly regularly. We came out with both the B-Kit and the window armor at the same time knowing that we wanted to keep the weight on the door as light as possible," says George Tunis, Hardwire CEO.
Tunis recalls about seven years ago a story was published in POLICE Magazine about ballistic vehicle protection offered by Hardwire. As a result, he says, the company received a call from officials in New York asking them to visit and explain the products. After that, Hardwire launched a pilot program to upfit police cars in New York City with both forms of side protection.
"The pilot program went really, really well and then it was decided to roll it out across the city," explains Tunis. He says thousands of cars were armored with the window insert and B-Kit following the success of the pilot program. That number eventually grew to tens of thousands of cars, he says, as the company began working to upfit police cars in Philadelphia also. Cost for the B-kit and window insert is roughly $3,000 per door, however large municipalities with hundreds of cars may see a price break, he explains.
The two ballistic items not only provide protection from gunfire but also shield officers from thrown items such as cinder blocks, bricks, stones, jugs full of concrete, and Tunis says they may even add strength to the vehicle during a side-impact collision.
Door Armor
"It doesn't matter whether it's football, warfare, or policing, the flank is always one of the most vulnerable areas," says Tunis. "We're able to armor the entire outside of the door to cut down any shot line that comes from an officer's flank. That includes the door handle, which is really a critical area because it lines up almost exactly with your vital organs."
The vehicle door armor is designed using the same technology trusted by the U.S. military. The ballistic panels, made from Dynema and sometimes Spectra, are bolted onto the existing door.
A drill jig makes preparing the attachment points easy. The door is then installed using anti-tampering bolts and AVK automotive fasteners. Part of the simplicity is that the interior of the door does not have to be removed during installation. An outer shell of ABS goes over the panel and is scratch and kick resistant plus can easily accept paint or decals the departments uses.
Four men can easily upfit a patrol vehicle with both the B-kit door armor plus the transparent armor window insert in 10 minutes, according to Tunis. And if a patrol vehicle is damaged in an accident, both armor elements can easily be moved to another like-model vehicle.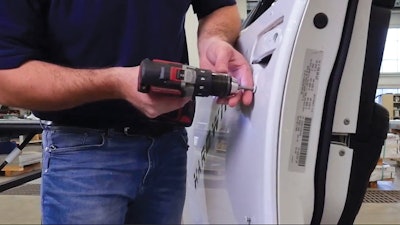 Most departments that choose to armor the side of patrol vehicles go with both the door armor and the window protection, Tunis says. With both the window and the B-kit, the added weight to the vehicle is between 20 and 24 pounds per door.
"We have definitely found in our experience working in New York and Philadelphia, as our primary big rollout cities, that bad guys shy away from hardened targets. Armor that is visible is a deterrent," Tunis says.
Transparent Armor
"The window is a critical component in armoring a car door for the simple fact people will shoot at what they are looking at," says Tunis.
Hardwire's Level IIIA+ window insert is tested under different specifications than body armor, and is made of layers of laminated polycarbonate, not glass. The window inserts have emergency egress when needed and do not interfere with normal operation of the original glass windows.
A huge importance in crafting quality transparent armor is creating a design that does not delaminate and Hardwire has not had delamination issues with the window inserts.
"It's a very specific recipe that we've come out with that has withstood the test of time, which is not just ballistically the test of time, but it is the New York-Philadelphia [weather] test of time, which can be pretty brutal," Tunis says.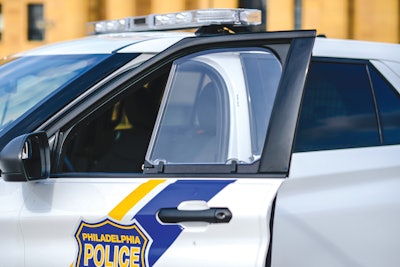 With higher levels of protection, such as moving up to NIJ III or IV, delamination becomes more of a problem since those items usually are a glass-polycarbonate system. Those higher levels of transparent protection are usually found in military vehicles and Tunis says the United States military often has faced problems with delamination.
Tunis, like Sabo, believes the time is right for agencies to adopt vehicle armor given the nature of the job and the increasing severity of threats to officers. He also thinks cost is no longer as prohibitive to departments when considering officer safety.
"I don't think there's literally a price we can put on officer safety. When it's your dad or your uncle or your son or your daughter or mom, there's really no price that can be put on officer safety if they're going to be in the line of fire," he says.