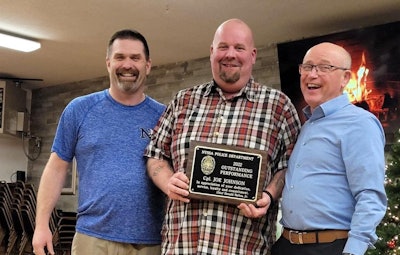 A Nyssa, OR, reserve police officer was shot and killed following a vehicle pursuit Saturday night. The suspect was captured Monday after a statewide manhunt.
The shooting occurred about 8:30 p.m. after the officer, identified as Corporal Joseph Johnson, 43, pursued a vehicle that came to a stop, according to a statement issued by Malheur County District Attorney Dave Goldthorpe.
Johnson has been a reserve officer for Nyssa since 2018, state records show. He works as a behavioral health specialist at Snake River Correctional Institution in Ontario, according to the Salem Reporter.
Goldthorpe said that Johnson was responding to "a call of concern regarding a violent individual damaging property and threatening others near a residence in Nyssa. In the process of responding, Officer Johnson learned the suspect (Rene Castro) had fled in a vehicle and began a pursuit through the city."
Oregon State Police say Castro, 36, was arrested at a home in Ontario, Oregon, on Monday.
The Oregon State Police SWAT team, along with members of the FBI, Ontario Police Department, Malheur County Sheriff's Office, and other agencies, surrounded the home at about 6:40 a.m. and began calling people to leave the home. Castro exited the home at about 7:40 a.m. and was taken into custody, KPTV reports.