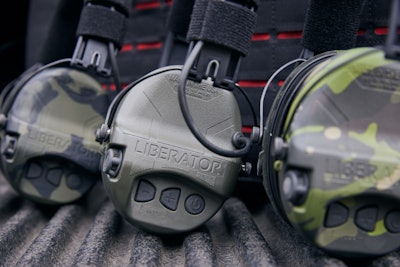 Safariland has announced that it has reengineered its Liberator electronic hearing protection products. The enhanced Liberator HP line now features a variety of improvements, including a rechargeable model.
"Reliable communication systems and audio protection are essential, and Liberators have served as an exceptional hearing protection and communication choice for security forces, SWAT teams, and everyday range shooters for years," said James Imhoff, vice president and general manager of diversified products for Safariland. "We're excited to showcase significant improvements to the Liberator line that enhance audio frequency, expand the system modes, and more. We've also added a highly requested rechargeable version of the Liberator HP with a focus on meeting the evolving needs of our customers."
The engineering behind the Liberator HP-R provides extended usage between charges, supplemented by a quick and effortless recharge, Safariland says. Utilizing a standard USB-C port with the included charging cable, the Liberator HP-R's powerful battery provides more than enough energy to keep the Liberator HP-R in action all week. The headset offers high protection in all environments and industry-leading sound localization for maximum situational awareness and sound detection. Providing exceptional electronic hearing protection without the need to replace batteries, the Liberator HP-R is the only premium hearing protection to offer this state-of-the-art rechargeable system, the company says.
Key features of the Liberator HP-R include:
• 3 Distinct Hearing Protection Modes
• Advanced Auto Shut-Off Technology
• Designed, Engineered, and Manufactured in the United States
• Simultaneous Active Noise Reduction (ANR) and Active Noise Cancellation simultaneously
• IP-68 Waterproof Design
• Noise Reduction Rating (NRR) of 26dB
• Slim Earcup Design Layered with Sound Barrier Technology
• Up to 80 hours of Operation
The re-engineered Liberator line features improved audio frequency responses to provide authentic sound reproduction, enhanced audio volume, and Active Noise Cancelling performance.
For more information about the improved Liberator line and new Liberator HP-R, visit Safariland.com.