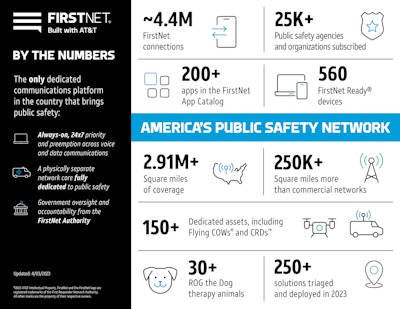 The First Responder Network Authority (FirstNet) is celebrating its sixth year of operation.
FirstNet also announced that it was launching the new Mini Compact Rapid Deployable for FirstNet. Now available for public safety agencies to purchase, these agency-owned assets are 80% smaller and half the price of the CRD for FirstNet, which has been used in first responders' emergency response during wildfires and last year's Hurricane Ian. Comprised of 2 ultra-portable ruggedized cases that are each about the size of checked luggage, the miniCRD can be deployed by a single person within a matter of minutes, covers up to a half mile and links to FirstNet via satellite without relying on commercial power availability. And with on-the-go coverage, public safety will have dedicated Band 14 connectivity wherever it's needed.
Created in a public-private partnership between the FirstNet Authority and AT&T, FirstNet is designed specifically for use by first responders, providing them with priority access to the network and even preemption of other users in times of high traffic such as critical incidents.
"We're proud to cover more first responders than any network. And with the nation's largest coverage footprint of more than 2.91 million square miles, public safety on FirstNet have access to 250,000-plus more square miles than competing commercial network offerings. Plus, with always-on priority and preemption, our first responders don't have to dial special codes or take extra measures to ensure their critical communications get through," FirstNet said.
Today, more than 25,000 public safety agencies and organizations are on FirstNet. And it's built for all first responders – federal, state, local, tribal, territorial, urban, rural and more. Individual first responders also use FirstNet thanks to FirstNet and Family.
"We look at FirstNet as the most important wireless network in the country because it's delivering the interoperable connectivity first responders require to stay mission ready. And it's transformed the way AT&T operates, from evolving disaster response to doubling down on network resiliency, truly making us a public safety-centric communications company," FirstNet said.
"As public safety's partner, we understand that we must earn and re-earn their trust each day. It's why we're laser-focused on delivering not only a mission-ready network but an entire public safety ecosystem that is second-to-none for decades to come," FirstNet added in a statement.