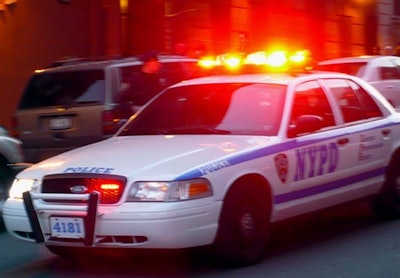 The line of duty death of a California officer who died after colliding with another responding unit over the weekend is a stark reminder of the dangers of Code 3 to officers driving to high-priority calls.
Civilians and other law enforcement units present different problems.
Early Sunday, Alhambra Police Officer Ryan Stringer died as a result of injuries sustained when his cruiser collided with a second unit as the officers responded to a robbery call at 2:30 a.m. on Sunday.
While heading to the scene, Officer Stringer's vehicle collided with a second officer's vehicle in the intersection of Main Street and Garfield Avenue in Alhambra's business district. Because the accident remains under investigation, Alhambra Police Chief Mark Yokoyama isn't confirming details of the accident that appeared in media reports. Also, it's not clear whether Officer Stringer, 26, was wearing a seat belt.
Officers responding to a call with an authorized Code 3 with lights and sirens activated may violate traffic laws such as posted speed limits and red lights, as long as they do it "with due regard for the safety of others," Los Angeles County Sheriff's Sgt. Edmundo Hummel tells POLICE Magazine.
While Sgt. Hummel isn't privy to the details of the crash, he says officers have been known to drive more rapidly to high-priority calls early in the morning because fewer civilian vehicles are on the streets.
Regardless of traffic congestion, officers speeding through intersections can always be hazardous, Sgt. Hummel says.
"We try to teach that you should drive a little bit faster than normal to get to the call, but that it's almost more hazardous with the lights and sirens," Sgt. Hummel tells POLICE. "Technically what we recommend is that you check the intersection and don't blow through the intersection."
The LASD's emergency vehicle operations instructors advise their deputies to proceed through intersections much like their public safety brethren who drive ambulances, fire trucks, and paramedic vehicles. Deputies should slow down and drive more cautiously through intersections, so they can check and clear each lane as they pass through.
An officer with activated lights and sirens faces numerous hazards from the public, as well as dangers from other responding officers. Civilians have been known to suddenly stop or jerk their vehicles in front of police cruisers.
Hazards from other responding units include a neurological response known as "auditory exclusion" that may limit the officer's ability to hear another unit's sirens.
Auditory exclusion occurs when an officer experiences hearing loss as part of a fight-or-flight stress response while confronting danger. The officer's brain filters out external noise to focus on survival.
There are other factors, as well. Sirens from one or more other units may also be muffled by the officer's own siren, as well as the officer's rolled-up window. This phenomenon, which can be known as "siren washout," occurs because officers typically roll up their windows so they can listen to radio updates about the status of the call.
The California Highway Patrol's Multidisciplinary Accident Investigation Team (MAIT) has taken over the investigation of the fatal accident involving two Alhambra PD officers responding to a robbery call with lights and sirens.
Related:
Effective Pursuit Driving (video)
Responding Calif. Officer Killed In Collision with Second Unit