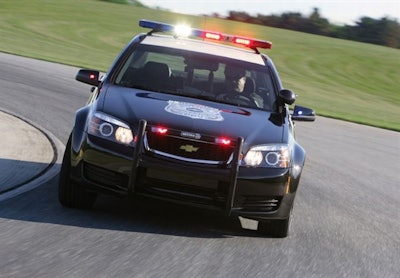 The Ford Crown Victoria Police Interceptor has been the standard-bearer for police patrol vehicles since the mid-1990s, and 2011 will be its final year in production. Agencies choosing a new pursuit vehicle will have a bevy of choices, but no easy decisions.
Will highway patrol agencies opt for the rear-wheel Chevy Caprice PPV to track down speeding scofflaws? Will more agencies patrolling icy and snow-covered roads choose the front-wheel Chevy Impala? Do municipal departments opt for the Dodge Charger Pursuit for its V-8 power and aggressive body styling?
Or will Ford's Taurus-based Police Interceptor be seen as a vehicle that offers fuel efficiency and the unsullied Ford brand?
Answers to these questions, as well as any unforeseen maintenance issues, won't come right away. However, impressions of the new vehicles and purchasing decisions are already solidifying.
Our compatriots at Government Fleet (a sister publication of POLICE) asked fleet managers how they're choosing their new pursuit vehicle, and published their responses at the Anonymous Public Fleet Manager Blog.
While the responses shouldn't be taken as a scientific survey, the anecdotal answers do shed light on the decision-making process.
The Texas Department of Public Safety is taking a "measured approach" to the decision, writes Jerry Newbury, who manages the nation's largest law enforcement fleet.
"We intend to evaluate the vehicles at our EVOC facility," Newbury wrote. "In addition to a full-size spare tire, our troopers typically carry a lot more gear with them than the average city cop, since they are pretty much on their own throughout the shift. I would anticipate that we will lean toward a rear-wheel drive option since that architecture has proven itself over the years, however; a decision has not been made at this point."
If he has his druthers, Newbury will purchase a couple of vehicles of each new model for in-house field testing.
Rocky Buoy said his sheriff's agency, which he didn't identify, initially planned to purchase two demo units of each vehicle for further testing. However, the agency chose the Chevy Caprice after "examining the cars at COPSWest, comparing specs, cost performance and driving the demo units ourselves." The agency is taking delivery of the first five Caprice cars in mid-July.
"The Ford was too small, and there were questions regarding the FWD/AWD change," Buoy wrote. "We do have some Taurus sedans in our fleet and find them confining even for non-emergency vehicle applications. The Dodge simply hasn't worked out the shortcomings. We have 50 black-and-white patrol units and 33 of them are CVPI sedans."
Two other commenters also said their agencies had chosen the Caprice or were on the verge of adopting the Chevy.
Dan Nicholson of the city of Lake Oswego, Ore., said the decision came after fleet purchasers participated in a General Motors Ride-n-Drive event.
"We based the decision on the performance and handling of the car as well as re-utilization of equipment and price," wrote Nicholson.
Tom Baylis said his sheriff's agency with 200 marked and unmarked patrol cars is "nearly 100% settled" on the Caprice.
"Like everyone else, Ford has been elusive as to when demos will be available for their next generation," Baylis wrote. "We're frankly not excited about the Chrysler Dodge offering and, since that model is different for 2012, we've also been unable to demo their new version."
Interior space helped drive the decision, Baylis added.
"Our deputies and fleet staff both feel good about the amount of interior space/layout of the Caprice, and the overall size and performance of the vehicle has had a lot to do with our probable direction," Baylis wrote. "So far we're not seeing a lot of price variation between the Caprice and CVPI when anticipated up-fitting costs are added to the equation."
Related:
2011 Chevrolet Caprice (photos)
Michigan Vehicle Tests: 2011 Dodge Charger Pursuit (video)