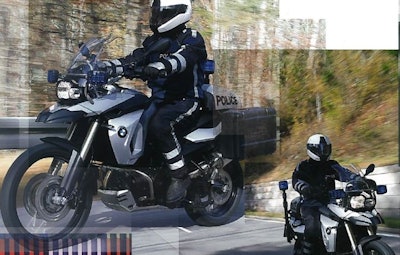 BMW plans to field-test a sport bike now being used by police agencies in Europe as an off-road option for American law enforcement. BMW is currently selling a civilian version of its F800-GS in the United States, and could easily convert it for police use, the company's law enforcement manager tells POLICE Magazine.
BMW plans to bring the F800-GSP to the Michigan State Police's annual vehicle tests in late September, says Frank Stevens, BMW's authority program manager.
The bike is similar to the BMW 650 once offered to agencies for light off-road use in parks, gravel roads, and fire trails. If BMW begins producing the F800, the company would make it available with a two-cylinder, vertical-twin, 800cc engine (the 650 had a one-cylinder engine). The company ceased offering the 650, because it didn't catch on with agencies.
The Philadelphia Police Department purchased 12 650s and the Fresno (Calif.) Police Department bought 30 for its gang enforcement officers to pursue suspects through residential back yards.
An F800-GSP could be offered to agencies who patrol rugged areas as an alternative to ATVs, because quads usually need to be transported to a search area via trailers.
The success the company has had with the civilian model could give the company traction to offer it to law enforcement, Stevens said.
"As with most vehicles, it started out as a civilian platform because you have to have enough volume and authority to justify a motorcycle from the ground up," Stevens said. "The F-series platform has been very successful for us."
The police version of the F800 would include interference suppression so officers could use radios, radar and LIDAR equipment unimpeded by electrical noise from the engine. The bikes would also include tip-over protection bars and an integrated lighting and siren package.