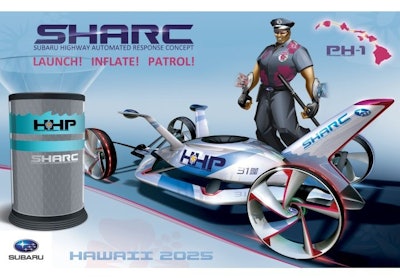 With the departure of the Ford Crown Vic patrol car, everyone wants to know what police car everyone else is purchasing now. If you want to know which vehicle is ahead in the race to replace the Crown Vic, the Governemnt Fleet online poll (108 responses) shows the Ford Police Interceptor sedan and P.I. Utility atop the list, followed by the Chevrolet Caprice PPV.
But that's not what this post is about. This is about the police car of the future, which according to the L.A. Auto Show Design Challenge judges, should be a Subaru. More specifically, the Subaru pictured above.
Every year, the L.A. Auto Show holds a design challenge, and this year's challenge was to design a highway patrol vehicle "that meets the challenges of a specific region's transportation and societal conditions in 2025."
There were six contenders from various design centers who created drones and multi-unit vehicles, and flying things, and an off-road-looking vehicle, all of which you can view at the 2012 L.A. Auto Show Design Challenge photo gallery. They're very futuristic and cool-looking, like something you might see Batman driving, if he were a cop.
The winning concept is no exception. The Subaru Highway Automated Response Concept (SHARC), designed by Subaru Research and Development, provides 24-hour highway monitoring and is billed as an affordable and environmentally conscious highway patrol vehicle that meets Hawaii's strict UtlraGreen carbon-neutral environmental regulations.
The vehicle addresses the concern about reduced highway patrol budgets by powering itself with renewable energy and operating autonomously, which eliminates the need for a large full-time highway patrol staff. If you watch the video below, you'll see the wheels turn to giant propellers for flight. Less staff and no fuel—sounds like a good deal, but I bet maintenance would be a nightmare.
And for your viewing pleasure, check out this promotional video of all the vehicles here. Watch it when you have some time, because it's 12 minutes long and the music makes you feel like you're in a dance club.
I don't know much about design, but I'm realistic, and I personally liked the more conservative fuel-cell Mercedes vehicle, the Ener-G-Force, which they actually made and brought to the show (or at least the exterior).
Thi Dao is the managing editor of Government Fleet magazine.