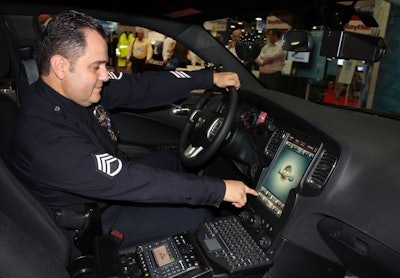 In an era not so far from today's, the Los Angeles Police Department imagines a patrol car that's been optimized for the patrol officer.
Excess brackets have been stripped away, and technology has been better concealed so as not to interfere with an officer's daily duties. An array of high-tech tools and data arrive at the officer's fingertip.
"It almost feels like a regular car, but then all of the sudden you realize you have all this police equipment," Sgt. Dan Gomez tells POLICE.
With the help of Chrysler and other police vendors, the LAPD presented its vision of the next-generation patrol car at the International Association of Chiefs of Police conference in early October in San Diego.
The department brought a Dodge Charger Pursuit that offered a streamlined vision of the future. The vehicle's primary accomplishment comes in its use of a 12.1-inch in-dash screen that incorporates the range of technologies officers use—lights and sirens, ALPR, infrared video, instant access to criminal databases and reporting tools, GPS routing, and Wi-Fi.
Chrysler engineers implemented the UConnect system to manage the array of police equipment. Chrysler installed the screen and Continental Engineering Services build the electronic architecture. With a single touch of the screen, officers can toggle between Dodge Mode and LAPD Mode to manage these systems.
"Everything up high on the interface would be things you do when you're in motion, and everything on the bottom would be things you do when you're parked," said Gomez. "We want to keep your line of sight out front."
Havis has lowered the center console to help officers avoid hip injuries during accidents. Federal Signal equipped the Charger with a solar-powered light bar. 3M added a vehicle wrap for the white of the "black and white" that can be stripped off to increase vehicle resale value.
The car even provides officers creature comforts. Four USB ports to charge mobile devices were added to the rear of the center console in front of the cup holders.
"We've taken all the existing systems we already use and we found a new way to package them," Gomez said. "We've done it in a smarter and safer way."
Related:
PHOTOS: LAPD's Patrol Car of the Future