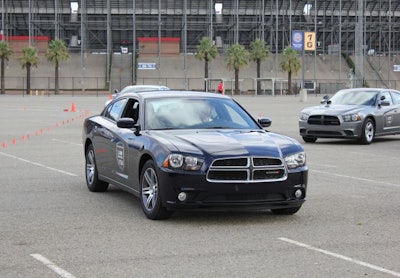 For the first time, the four new patrol vehicles from Chrysler, Ford, and General Motors all came together in one place where officers could get behind the wheel. The Detroit automakers offered ride-and-drives at the Los Angeles County Sheriff's Department's annual vehicle testing in October.
Orange-cone driving courses were set up in large swaths of parking lot at the Auto Club Speedway in Fontana just outside where police EVOC drivers were testing the 2013 model-year vehicles.
As the PoliceMag.com web editor and resident vehicle blogger, I've been covering the Chevrolet Caprice PPV, Dodge Charger Pursuit, Ford Police Interceptor sedan, and Ford Police Interceptor Utility for three years. Dodge has been producing its police Charger since 2006, but Ford and General Motors stunned law enforcement in late 2009 when they announced new patrol vehicles and the end of the venerable Ford Crown Vic.
I've covered the glitzy announcements, attended vehicle testing in Michigan and California, and talked to countless officers about the cars. What features do they like? What could be improved? How do these vehicles best suit your jurisdiction?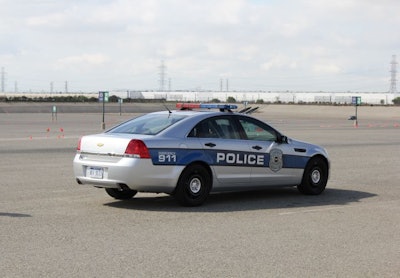 The chance to get behind the wheel proved to be an opportunity I just couldn't pass up. So I'm passing along a few driving notes about the cars. Bear in mind, I've never pursued a suspect through a blind alley or attempted a PIT Maneuver at high speeds, so take what I have to say with a grain of salt.
First up, I drove the Dodge Charger powered by the 5.7-liter V-8 HEMI. Dodge's cone pattern began with a drag-strip straightaway and brake box, followed by a tight U-turn, four-point slalom course and several more brake boxes. The weighty vehicle provides easy acceleration, no surprise there. But it handles corners well with little body roll. It's a substantial vehicle.
Next up was the V-8 Caprice. General Motors laid out a curvy racetrack of cones after an initial straightaway. You can push the Caprice out of the curves without worrying about losing footing, and the car is a braking monster. The track's finale was a brake-mashing stop point that showed off the vehicle's impressive stopping power.
Lastly, I drove three Ford Police Interceptors—the new 3.7-liter V-6, the 3.5-liter twin turbo, and P.I. Utility. By leading off its cone course with a nice, long straightaway, Ford lets you work up some speed to take a long arching turn. The sedans drive like race cars and the wheels grip the pavement as you slow, turn, and accelerate out of the apex. Three cone wedges intruding into a narrow straightaway—alternating right, left, and right—show you the sedan's high-speed agility. The twin-turbo may be overkill, but that kind of problem is like running out of champagne. I can see it more as a highway patrol stalker for high-speed scofflaws.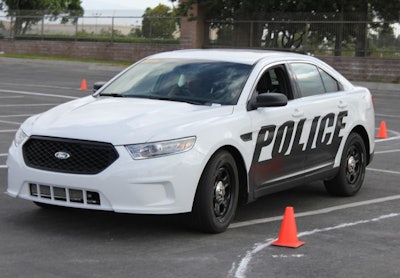 I can also see why the P.I. Utility is becoming popular with state police agencies. It's lower slung than the Tahoe and handles impressively around corners. It's more of a lumbering vehicle when driven after the sedans, but its stability when cornering is unlike any SUV I've driven.
We've written about the tough choices agencies now have with these new vehicles. No longer can agencies just call up Ford and ask for more Crown Vics. It's a more crowded landscape, but that's a good thing. Good for officers and good for the public they protect.