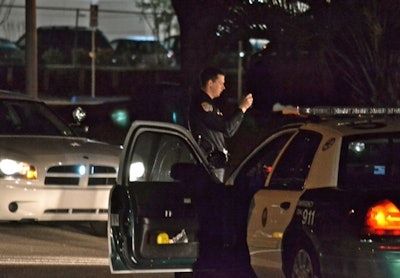 I've always been an admirer of those who somehow find silver linings in life, and none more so than those who try to find some favorable change in light of a tragedy. Indeed, Samatha's law, Amber alerts, and many other laws that have come in the wake of horrific crimes have doubtlessly saved countless lives of other children. That people who are tasked with so many responsibilities elsewhere are willing to step up and commit their time and energies to tackling still other obligations amazes me. They are absolute heroes in my book.
Within our profession is such a man.
Sgt. Noel Houze had a close friend with the Indiana State Police, a man he'd trained and had come to respect as a state trooper: Indiana Trooper Andrew Patrick Winzenread.
On April 25, 1997, Trooper Winzenread was killed while assisting a motorist on the roadside of Interstate 74 in Decatur County. A passing big rig struck Winzenread, despite the presence of other lanes in which he could have safely passed the trooper. As a result, the 26-year-old state officer left behind a wife and a month-old daughter. (Many of the reflections of Trooper Winzenread left on the Officer Down Memorial page are particularly poignant.)
Upon hearing of the circumstances surrounding his friend's death, Houze decided to do everything he could to ensure that his friend's death would not be in vain.
Recognizing that such fatalities were preventable, Houze approached a state legislator and proposed a bill that would obligate motorists upon seeing a roadside emergency vehicle ahead of them to move to one lane over.
Not only did the law become enacted in Indiana, but it soon caught on like wildfire. Today, 49 states have passed such laws. (Hawaii and Washington, D.C., are the sole hold-outs. But perhaps one day their legislatures will do right by their emergency personnel.)
The best of us don't let tragic deaths be in vain. They try and do something to save others from such fates. This is evident in those who take creative recourse to impact the actions of those outside of law enforcement. They are worthy of our respect, admiration, and hopefully, emulation.
Sgt. Noel Houze is one such hero.