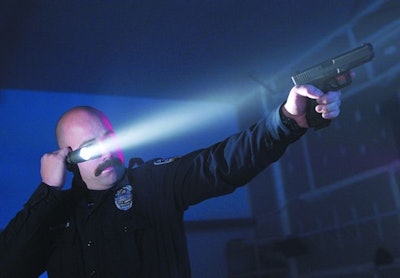 Officers can choose from a plethora of small, bright, tactical lights in incandescent and LED versions that offer much more than basic illumination. Let's consider whether you should choose a hand-held or weapon-mounted light.
A tactical light should meet three basic requirements that apply to hand-held and weapon-mounted lights—a high-output beam, reliable high energy power, and tactically correct switching.
A tactical light should produce at least 60 lumens. A lumen, which is shorthand for luminous flux, measures the total output of a light source. The older candlepower ratings measured only a single spot of light at the hottest spot in the beam.
Most tactical lights are powered by long-lasting lithium batteries that provide a reliable high-energy power source. Lithium batteries have many advantages over alkaline batteries, including longer shelf life (up to 10 years), higher power density, higher unit voltage, lighter weight, better cold-weather performance, and superior voltage maintenance.
The older click-on, side-mounted switching of standard police lights was nearly impossible to manage in the dark during a stressful encounter. Today's momentary, tail-cap or remote switching does a far better job meeting an operator's needs.
Hand-Held Lights
Many officers are now choosing a hand-held duty light that relies on LED rather than incandescence for illumination. An LED offers two valuable features for police work. It offers the strobing feature and won't break as easily as a bulb.
If you haven't experienced the effects of being in a darkened room and then having someone illuminate you with a strobe, you really need to. The effect is totally disorienting. It seems highly unlikely that anyone could fight effectively when faced with 100+ pulsing lumens. The ability to dim the light is also a big factor.
Law enforcement apparel maker 5.11 Tactical entered the flashlight market several years back with its supercapacitor-powered Light for Life patrol light. At this year's IACP, the company introduced a new line of conventional battery-powered flashlights called ATAC. The five ATAC lights range in size from a 6-inch long pen light to a 5.3-inch tactical light. All except the pen light offer advanced features such as strobe mode. Prices range from $29.99 to $84.99.
SureFire's AZ2, an excellent choice for a hand-held light, is a dual output LED light. At first glance it looks like a 6Z with its push-to-activate tail cap and mid body grip rings on a Combat Grip Body. But when you look more closely you'll see there are five lights in the bezel. Four are low output (35 lumens) and the center LED provides the high output (150 lumens).
Pelican's 2490 Recoil LED runs on four AA batteries and has an output of 51 lumens. It provides useable white light out to 30 yards or so, yet it won't blind you when you're using it to search under a car seat. If you need to use the 2490 as a traffic wand, simply remove the lamp head, insert one of four colored lenses, and screw the included cone on. You now have a traffic/marker light.
Weapon-Mounted Lights
Holsters for handguns with attached lights have become widely available. As a result, more and more professionals are opting for a gun-mounted light.
The SureFire X300 weapon light fits both handguns and long guns and generates 170 lumens of white light focused by a Total Internal Reflection (TIR) lens. Features include a rail-lock system with adapters for attachment and detachment for Universal and Picatinny rails. An ambidextrous push/toggle switch provides one-finger operation for either momentary or constant-on operation.
The TLR-2S tactical light from Streamlight can be used on a long gun with an optional mount. Featuring the latest C4 LED technology, the TLR-2S delivers up to 160 lumens of white light and offers high-intensity, low-intensity, and strobe settings. Power is supplied by two lithium CR123A batteries with a runtime of 2.5 hours on maximum output and 50 hours on the lowest setting.
A gun-mounted light may be a great aid to shooting in the dark, but it comes with liability issues as well. It's next to impossible to manage a hand-held light and a long gun at the same time. All my tactical shotguns and black rifles have dedicated lights on them, because we must positively identify our target before pulling the trigger.
"The gun-mounted light enhances an officer's ability to identify and engage a target if the officer has justification to have their gun drawn in the first place," said John Meyer of TeamOne Network.
You shouldn't view a gun-mounted light as an illumination tool; consider it to be part of the weapons system. I've often seen officers draw their gun to use the light attached to it when it was inappropriate to have their gun out.
While there are a number of adapters available to mount a handgun light to your long gun, a light designed for and with a dedicated mount for the long gun is a much better choice.
Elzetta provides a line of versatile and durable flashlights that can be attached to long guns with the company's mounts. The Elzetta ZFH1500 Flashlight Mount attaches to the standard A2 front sight base of AR15-style rifles and carbines, providing an ambidextrous mounting platform for tactical flashlights. It adds no width to the rifle and does not interfere with storage in vehicle racks and gun cases.
Hand-Held or Weapon-Mounted?
Let's now answer the question—hand-held or weapon-mounted light? The answer is that you need both. Carry a primary and a secondary hand-held light in addition to the lights on your handgun and long gun. I'm a firm believer in the theory, "Two is one, and one is none."
First, buy the best light you can afford. There's a lot of cheap junk out there. SureFire, Streamlight, and several others make the best that today's technology can produce.
Second, get some good training on how to properly use your light. The better schools and instructors now offer low-light instruction. The SureFire Institute is one of the best, but there are a lot of other good programs out there.
And lastly, be sure to practice, practice, and practice some more. Most shootings occur in low light, yet how often do we practice in low light? This practice needs to be two-fold. First, you need to find a range where you can get in regular low-light shooting sessions. Secondly, your practice should involve force-on-force exercises. They're the only way to learn what really works.
So there's no need to choose between a hand-held or weapon-mounted light. If I'm heading into harm's way, I'll be carrying several of both.
Related:
Weapon Lights and Laser Sights (photos)