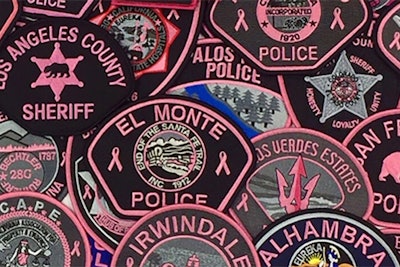 Earlier this week, we reported that officers with an estimated 450 departments nationwide will wear pink uniform patches during the month of October in an effort to raise awareness of the disease and money for breast cancer research and treatment.
Those officers will be sporting specially made uniform patches as part of Breast Cancer Awareness Month in an initiative driven by an organization called the Pink Patch Project, a public awareness campaign designed to bring attention to the fight against breast cancer and to support breast cancer research organizations in combating this devastating disease.
Citizens can purchase these patches directly from the departments—often in the agency lobby or at public events—or via online e-commerce sites the departments open on eBay or Etsy.
People can also purchase a limited selection of patches directly through this website, run by City of Hope.
Some of the nationwide proceeds go to City of Hope—a comprehensive cancer center and a national leader in advancing research and treatment protocols—or to a local cancer treatment / research center of the department's choosing. This means that agencies can choose to keep their funds local if they wish.
History of Charity
The fact that 450 police agencies are participating in the effort is unsurprising—police have a long history of doing things to help charitable causes.
Just last month, deputies with the Scotland County (NC) Sheriff's Office faced off against officers with the Laurinburg (NC) Police Department for the first ever "Swinging for a Cure" softball game, aimed at raising money for cancer research.
Back in July, deputies with the Los Angeles County Sheriff's Department held an event to provide school supplies to underprivileged children in the region.
Earlier that month, the San Francisco Police Department hosted a nine-mile run in support of Special Olympics of California that drew nearly 3,000 participants from across the Golden State.
In June, the Rapid City (SD) Police Department beat out the Rapid City Fire Department in the annual "Guns 'n Hoses" Blood Drive, with police attracting 454 blood donations over the fire department's 376 donations.
In March, the West Liberty (IA) Police Department announced that they would be selling special edition Autism Awareness patches.
Police departments rally around myriad such efforts, from St. Jude's Children's Hospital to the St. Baldrick's annual shaving of heads. Agencies re-skin their patrol cars for Autism awareness, and officers take the annual "polar plunge" for Special Olympics.
Cops wait tables, serve coffee, wash cars, cook chili, and engage in a host of other activities—all in the name of charity.
But what about these pink patches?
According to their website, the Pink Patch Program has the simple goal of "increasing awareness about the life-saving benefits of early detection and early intervention in the fight against breast cancer. In addition to our public education efforts, we have the added goal of raising funds from the sale of Pink Patch Project patches and other items to go directly to fund the research, treatment and education needed to help find a cure."
I reached out to Amy McDaniel—the PIO for the Pink Patch Program—to learn more.
McDaniel ran the program for her police department in El Segundo, California and quickly recognized that it could be much bigger than it was—she has since taken over day-to-day operations as well as the organization's social media platforms.
The program also has a special place in her heart because her grandmother is a breast cancer survivor.
Starting Conversations
"The pink patches are intended to stimulate conversation with the community and to encourage public awareness about the importance of early detection and the on-going fight against this disease," McDaniel told POLICE Magazine.
The words "early detection" are absolutely critical with all forms of cancer—all diseases, actually—but even more so with breast cancer. According to the American Cancer Society, breast cancer that's found early—when it's small and has not spread—is easier to treat successfully. ACS says that getting regular screening tests is the most reliable way to find breast cancer early.
In addition to generating conversation that leads people to see their doctor on a regular basis, the discussion includes the fact that breast cancer is by no means a rarity.
According to City of Hope, one in eight women in the United States will develop breast cancer in her lifetime. City of Hope also estimates that there are 3.5 million breast cancer survivors in the United States.
Further, breast cancer is not a female-only disease. Although breast cancer in men is rare, City of Hope said in 2017 that an estimated 2,400+ cases of invasive breast cancer were diagnosed in men that year.
Pink Patches
The roots of the Pink Patch Program can be traced to the Seal Beach (CA) Police Department, who wore pink patches on their uniform shirts during Breast Cancer Awareness Month in 2013. Two years later, the Irwindale (CA) Police Department took the idea a step further and sold their patches to the community, raising over $20,000 for City of Hope.
In 2016, Irwindale Police Chief Anthony Miranda took the idea to the Los Angeles Police Chiefs Association and 25 local agencies came on board.
"The Pink Patch Program has now expanded to include agencies from 42 states as well as international agencies including Canada, France, and Spain," McDaniel said. "It includes partners from police, sheriff, fire, EMS, and federal agencies."
However, with an estimated 18,000 agencies in America, there's ample room to grow, and McDaniel and the Pink Patch Program are more than willing to give an assist.
"We're here to help you through the process of developing and deploying your program," McDaniel said. "This includes suggestions on where to obtain pink patches, how to select a beneficiary, and how to manage your program locally."
McDaniel added, "The sky is the limit and the agency can use any method they choose in order to raise funds for their program. Many of our agencies have come up with creative and inventive ways to sell patches and raise funds."
Participating in the program is pretty straightforward. Each agency manages its program locally and independently, implementing the program in a way that best fits their department. Each agency designs and obtains its own patches and supports the program at the agency level. Because each agency designs the program to fit its particular needs, the agency can choose to employ all or only some of the program's main components.
"Once you've made the commitment to implement the program at your agency, we ask only that you register your program with us so that we can post your agency's information on our website, spotlight your efforts on our social media platforms, and include your department in our mailings, meetings, and events," McDaniel said.
For further information on how to get involved in the Pink Patch Program, simply send them an email at info@pinkpatchproject.com.
Final Words
Breast cancer is the second-leading cause of cancer death in women after skin cancer. The leading risk factor for breast cancer is simply being a woman.
Although treatment technology has vastly improved over the years, more can still be done.
That's why the Pink Patch Program is so vitally important.
There are myriad ways for people to help support more research, but this particular initiative is pretty special. The Pink Patch Project has raised more than $100,000 thus far—$350,000 was given to City of Hope last year.
If you're an avid patch collector like me, purchasing a handful of your favorite designs every year can go a long way toward putting an end to this terrible disease.