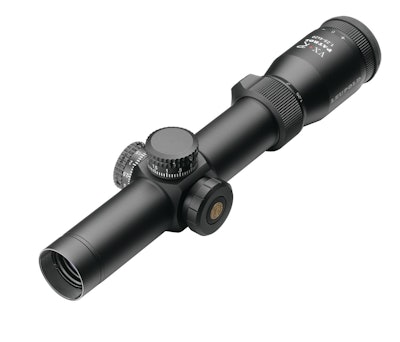 Leupold's new VX-R Patrol riflescope features proprietary powered fiber optic technology in an exclusive FireDot reticle to provide law enforcement, military, and other tactical shooters with exceptional target acquisition, in the bright light of day as well as the low light of dawn or dusk.
The VX-R Patrol is available in a 1.25-4x20mm model with the FireDot Special Purpose Reticle (SPR) and a 3-9x40mm model with the FireDot Tactical Milling Reticle (TMR).
"Our new VX-R Patrol riflescope offers true daylight-capable illumination and long battery life, along with a sleek design that reduces bulk atop the rifle," commented Pat Mundy, communications manager for Leupold & Stevens Inc. "It is an extremely versatile scope that can handle a wide range of tactical situations and conditions."
The VX-R Patrol has a single push-button illumination system with Leupold's Motion Sensor Technology (MST). A touch of the button illuminates the dot within the reticle. By repeatedly pressing the button, the user can select between eight different intensity settings including a high-low indicator, which flashes when either the maximum or minimum intensity is reached. After five minutes of inactivity, the illumination system automatically switches to stand-by mode, but reactivates at the same intensity setting whenever the rifle is moved. This helps extend battery life and, by reducing movement, allows the shooter to maintain greater stealth in the field.
In addition, the FireDot reticle in the VX-R Patrol has a fiber optic light pipe with a precisely cut and meticulously polished tip designed to deliver an illuminated dot that can be easily seen in bright light, yet is not overpowering in low-light conditions. Once activated, the dot illuminates with bright, sharp definition, while the rest of the reticle remains non-illuminated. This combination leads the eye naturally to the center aiming point and makes target acquisition quick, precise and simple.
The FireDot SPR is designed for instinctive, close-range/low-magnification situations, yet allows shooters to engage targets with greater precision at longer ranges than generally possible with other reticle styles. Expanding on existing Mil Dot reticles, the FireDot TMR offers increased ranging precision and accuracy.
Other key features of the VX-R Patrol:
Rugged 30mm matte black maintube
Leupold's Index Matched Lens System, which maximizes light transmission to produce an extremely bright, sharp image across the visual field
Blackened lens edges for enhanced light transmission, clarity and contrast
DiamondCoat, an ion-assisted lens coating for optimal light management and maximum abrasion resistance
One-turn, non-locking eyepiece to provide smooth, fast and precise focus adjustment for users of different visual acuity, from nearsighted to farsighted
Precision finger click adjustments for windage and elevation (1/4-MOA)
Leupold's most durable twin bias spring erector system
Second generation Argon/Krypton waterproofing for enhanced resistance to thermal shock
CR-2032 coin cell battery, readily available around the country
The VX-R Patrol is backed by Leupold's lifetime guarantee. The VX-R 3-9x40mm riflescope is the Shooting Industry Academy of Excellence 2011 Optic of the Year.