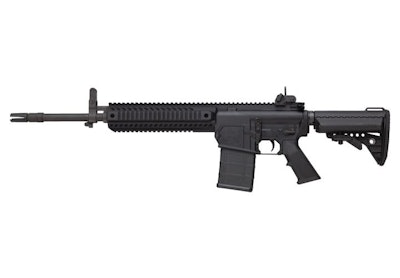 Colt Defense LLC will bring to market the LE901-16S modular, multi-caliber rifle that the company debuted at SHOT Show a year ago.
With a proprietary adapter, the rifle can be easily changed from .308 Winchester (7.62x51 NATO) chambering to .223 Remington (5.56x45 NATO). The Colt LE901-16S will be initially offered in black with other finishes available later in the year.
"This is an exceptional rifle for a wide variety of shooters due to the interchangeability in caliber," according to David Ridley, vice president of Colt Defense. "With a simple swap of the upper receiver shooters can switch to the caliber they need for the shot they want to achieve."
In .308, the LE901-16S is suited to a law enforcement sniper. By swapping the upper receiver and buffer system, the rifle's chambering can be changed to .223 for tactical or patrol duty.
The Colt LE901-16S rifle weighs 9.4 pounds and measures 37.5 inches with the stock extended. It has an effective range of 700 meters and a rate of fire between 700 and 950 rounds per minute when configured for .308. The free floated, chrome-lined barrel measures 16 inches.
Operating controls on the LE901-16S are ambidextrous, including the magazine release, bolt catch and fire-control selector. The monolithic rail covers the fore end and can accept a variety of accessories. A back up iron sight (BUIS) is also offered. The LE901-16S features a black Vltor stock and comes with two black 20-round Magpul PMAGs.