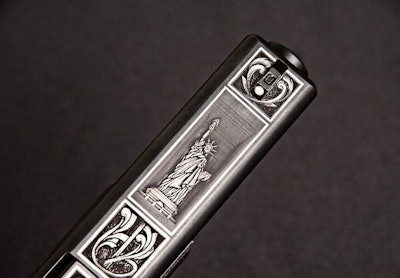 A specially engraved "Statue of Liberty" Glock G22 has been selected as the official handgun for the 2012 SHOT Show auction, according to the company.
The auction, which will run from 10 p.m. Dec. 14 to Jan. 20, features an intricate, hand-engraved tribute to the Statue of Liberty. April marks the 125th anniversary celebration of the Statue of Liberty. Glock is celebrating its 25th anniversary of selling firearms in the U.S.
"Oftentimes, the misconception is that the limited edition pistols from GLOCK, such as the 'Statue of Liberty gun' are hidden away in company vaults," said Gary Fletcher, Glock vice president, in a statement. "With the company celebrating 25 years in the U.S., Mr. Glock wanted to give those who helped the company achieve that milestone of success an opportunity to own this one-of-a-kind piece."
The highest bidder for the 2012 SHOT Show handgun will also receive a hunting trip with Glock's celebrity spokesperson, R. Lee "The Gunny" Ermey, and a framed drawing of the original G17 signed by Glock President Gaston Glock.
The Glock will be released for auction on GunBroker.com.