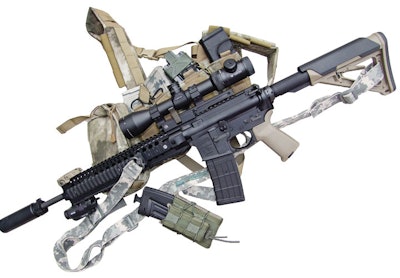 One thing I have noticed in my training with various agencies and at various training centers is that there are very few if any law enforcement agencies mounting M203 grenade launchers under their M4s. That means they don't need heavy-barreled military standard M4s. Yet they carry those heavy barrels anyway. Having a heavy barrel on a law enforcement carbine does nothing but add weight for no real reason. That's why I recently started looking for an M4 with a light contour barrel.
Just before last January's Shooting Hunting and Outdoor Trade (SHOT) Show I noticed Daniel Defense was offering an M4 with a lightweight barrel specifically for law enforcement. From the description on the company's Website, the Daniel Defense v5 Lightweight M4 carbine sounded like just what I was looking for.
The weight difference between the v5 Lightweight and a standard M4 was immediately noticeable, nearly 10 ounces. That's a lot of weight if you have to work an operation for hours. The standard M4 has a short carbine railed forearm compared to the 12-inch mid length of the v5 Lightweight.
Ready for Duty
Standard features on the v5 Lightweight include the Omega X Rail with low-profile rail covers, an A2 flash hider, a Magpul MOE buttstock and a Magpul 30-round P Mag, a Daniel Defense A2 pistol grip, a pinned low-profile gas block, and a vertical foregrip. The upper and lower receiver are military spec with an M4 feed ramp, an enhanced/flared magazine well, and an H buffer. The bolt group is military spec and properly staked so the carbine won't shoot loose and MP tested to ensure durability.
To me the most important feature of the v5 Lightweight is its chrome moly-vanadium steel barrel with a one-in-seven twist. The barrel is cold hammer forged to create a defect-free surface and is then chrome lined to enhance durability. It has been my experience that Daniel Defense's 16-inch barrels outperform 18-inch and 20-inch barrels from other manufacturers.
The v5 Lightweight is nearly perfect out of the box. But for my needs I did make four changes. First I added a Magpul MOE pistol grip as the A2-style grip with its finger groove doesn't fit me right. I also changed the MOE buttstock from black to flat desert earth to match my pistol grip. Then I added a Magpul quarter-inch riser to the MOE stock for a better cheek weld when using optics. Finally, I changed the A2 flash hider to a SureFire muzzle brake to allow me to use my SureFire Mini suppressor on the v5 Lightweight.
Function Testing
While I was modifying the carbine to suit my needs, I took time to wipe it down, run a lubed patch down the barrel, and lubricate the bolt, bolt carrier, buffer, and charging handle. Ensuring that these are all well lubricated makes an AR-style weapon run better. Contrary to what many of us were taught by Uncle Sam, a dry AR is not a happy AR; give it quality lubricant and it will run better.
Once the v5 Lightweight was cleaned and lubricated, it was time to head to the range. I chose a variety of ammunition with bullet weights of 62 grains to 77 grains from Black Hills, Atlanta Arms and Ammunition, and Prvi Partizan. I also decided to shoot my training load, which uses Ramshot Exterminator powder with Montana Gold 52-grain bullets. This variety covered the spectrum of quality duty and training ammunition.[PAGEBREAK]
For optics I chose to use Aimpoint's new Patrol Rifle Optic (PRO) and Vortex's 2.5-10X44 Viper PST in a Precision Reflex Industries mount. This choice of optics gives me a sight for CQB or precision, and the Viper because of its 2.5 power can be used for up-close-and-personal operations. I also wanted to use the Viper with its 10 power magnification to see how well the v5 Lightweight shoots. I find red dot sights do not bring out the best accuracy a firearm has to offer; especially with my middle-aged eyes.
Before testing the v5 Lightweight for accuracy, I needed to ensure it was reliable. To do this I loaded Lancer Systems' L5 magazines and Troy Industries' Battle Magazines with mixed ammunition from my odds-and-ends dump bag. This collection included bullets from most major manufacturers and some .224 bullet weights. The v5 Lightweight didn't care who made the cartridge or what the bullet weighed; it simply fired every time the trigger was pulled. Both the Troy Industries Battle Magazines and Lancer's L5 magazines fed this hodge-podge of ammunition into the v5 Lightweight cartridge after cartridge.
Accuracy Testing
I zeroed my optics with the "junk" ammo. I didn't want to burn quality ammunition to get the carbine on paper. I figured why not see how the carbine functioned and zero the optics at the same time.
The v5 Lightweight carbine really shined with the 77-grain loads from Atlanta Arms and Black Hills. The best three-shot group was three-eighths of an inch at 100 yards. Using heavy .223 loads, 69 grains plus, this carbine consistently shot groups under an inch. It was no slouch with lighter bullets either; those groups were just over an inch, even my hand-loads. The Daniel Defense v5 Lightweight's accuracy was on par with a heavy barrel 20-inch rifle.
After I had the v5 Lightweight zeroed, I wanted to see how well the Vortex Viper optic's adjustments made corrections. Each click is one-quarter MOA and the clicks were accurate. I was able to walk the bullet impact from the center of the target to each target square and back; the Viper performs as advertised.
Switching from precision to more close-quarter shooting, I removed the Viper and replaced it with Aimpoint's PRO. The PRO comes with flip-up covers, QRP mount and battery (life is estimated to be three years); complete you will find this red dot priced $400 to $500, depending on the vendor or area.
Aimpoint's QRP mount properly aligns the optic with your eye. When mounted the PRO co-witnessed with the Magpul BUS front and rear. These sights lay flat and flip up in a flash when you depress the ambidextrous catch. If you run the carbine with the sights in the "up" position, they will be center co-witnessed.
Muzzle Brake and Suppressor
Thanks to the light weight of the v5 Lightweight and the SureFire muzzle brake there was very little muzzle rise and transitions between targets were smooth and fast. The PRO allowed for quick accurate shots at distances from seven to 25 yards.
I also ran the v5 Lightweight with a SureFire Mini. This 10-ounce suppressor not only reduces the noise and muzzle flash signature, it also reduces muzzle rise to next to nothing. It's also really quiet. My range is roofed and enclosed on three sides. But if you were behind the structure while the M4 with the Mini attached was being fired, it sounded like a muffled balloon breaking and you could not pinpoint the origin of the sound. This is exactly what SureFire's suppressors are designed to do.
A fighting carbine also needs a light. I mounted the new WL1-AA Light/Laser from Insight Technologies. This light is powered by inexpensive AA batteries instead of the pricey CR123As. The 150-lumen output truly will light the night at distances out to more than 75 yards. The adjustable laser further enhances this light, giving you a zeroed aiming point. Lasers increase accuracy when shooting from non-traditional shooting positions.
The WL1-AA is compact and barely adds three ounces to the M4. It gives the operator the choice of white light, laser, or both. You can lock the system out so you don't have an accidental discharge of light. To further enhance this light's function, there are two paddle switches that give you constant on or intermittent on.
Previous experience with Daniel Defense M4s led me to expect excellent performance from the v5 Lightweight; I was not disappointed. The Daniel Defense v5 Lightweight M4 is an awesome firearm. It is wicked accurate, easy to handle and carry, and it is boringly reliable. If you are looking for an M4 for duty, competition, or home defense, take a look at this carbine. I did. I loved it. And I made it my personal firearm. That is the highest recommendation I can give.
Scott Smith is a former federal police officer for the Department of Veteran's Affairs and a contributing editor to POLICE.
Daniel Defensev5 Lightweight Carbine Specs:
Caliber: 5.56 NATO
Capacity: 30 rounds with provided mag
Overall Length: 35 inches as shipped
Barrel Length: 16 inches
Barrel: Chrome moly vanadium steel, cold hammer forged, 1:7 twist
Weight (no sights): Six pounds, five ounces
Gas System: Midlength
Gas Block: Low profile gas block
Handguard: Omega X Rail 12.0
Grip: Vertical Foregrip
Buttstock: Magpul MOE Buttstock
Price: $1,469 (no sights)