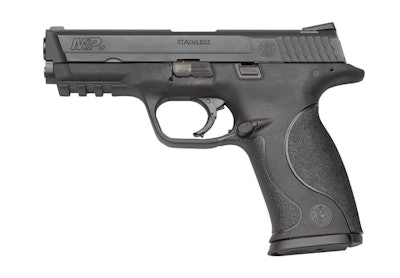 Smith & Wesson will supply firearms from its Military & Police (M&P) series to two Texas law enforcement entities, including the Austin Police Department and the San Antonio Police Officers Association, under new contracts.
The Austin Police Department is adopting a standardized departmental sidearm, and has selected the Smith & Wesson M&P40 polymer pistol.
The agency ordered 1,775 M&P pistols chambered in .40 S&W with standard features that include three interchangeable grips sizes, ambidextrous controls, and the ability to disassemble the firearm without pulling the trigger. In addition, the M&P40 pistols have been equipped with night sights and three magazines as requested by the department.
"This decision by the Austin Police Department marks the first time in 20 years that the agency has chosen to issue a standard firearm to its officers," said Mario Pasantes, senior vice president of marketing and global professional sales. "Prior to this, officers within the department were able to select from an approved-for-carry list of firearms that included a variety of choices from multiple manufacturers."
Also, the San Antonio Police Officers Association ordered 550 Smith & Wesson M&P15A patrol rifles for purchase by individual officers. The Smith & Wesson M&P15A has been custom ordered by the private organization and the rifles are approved for on-duty use.
The San Antonio Police Officers Association selected the design specifications of the new patrol rifle and allowed officers the ability to customize their individual firearms by working with Smith & Wesson to add features such as engraving, individual officer badge numbers, and other individual officer identification marks.
"Our law enforcement support services are structured so departments can hand-pick those elements that directly meet the needs and qualifications of their particular agency," Pasantes added. "As a result, within the San Antonio Police Officers Association, officers were able to customize the M&P15A rifles to meet their personal preferences, while still conforming to the list of standard specifications required by the agency."
Related: Smith & Wesson M&P15R