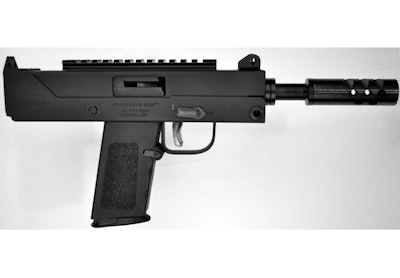 MasterPiece Arms introduced its MPA57SST Defender semi-auto sub-machine pistol at SHOT Show 2012 in Las Vegas.
The weapon is based on the MAC design and will be available as a 5-inch fixed barrel pistol or a 16.75-inch carbine. The weapon is chambered in 5.7x28mm with a ½x28 threaded barrel that can accept a suppressor.
A 20-round magazine is standard in compliant states and a 30-round option can be had for the carbine. Masterpiece Arms will be submitting the new MPA57SST for California Compliance testing with a 10-round magazine for the carbines only.
The MPA57SST arrives with adjustable sights, a side-cocker, scope mount, and muzzle break. It retails for $599. View a demo of the new MPA57SST Semi-Auto in action at YouTube.