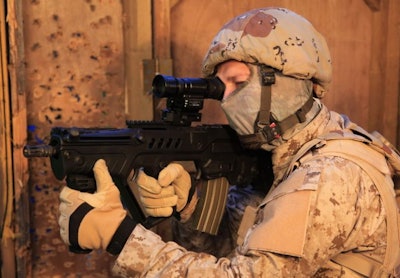 Meprolight introduced the Mini-Hunter lightweight night vision weapon sight and NOA NYX uncooled thermal weapon sight with 2x magnification at SHOT Show 2012.
"Both sights include features that make them especially suitable for Close Quarters Battle (CQB) and are generating considerable interest among our customers around the world," said Benny Kokia, Meprolight's director for sales and marketing.
The Mini-Hunter compact lightweight night vision weapon sight was developed and manufactured by Meprolight's sister company, Pulse Inteco Systems. Weighing less than 1 pound, this sight offers 2x magnification. The Mini-Hunter can also be used for observation, and fits a variety of weapon types, including rifles, assault rifles, rocket launchers and machine guns. The unit is powered by a single, standard "AA" battery and can operate continuously for up to 40 hours.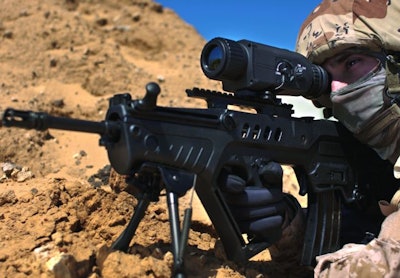 Meprolight's NOA NYX uncooled thermal weapon sight with 2x magnification was developed for precise target detection and engagement in dust, smoke, and darkness. It weighs less than 2.2 pounds and uses high-resolution microbolometer technology to ensure clear and consistent results. The flexible unit can be used as a hand-held device or fitted to light machine guns, assault rifles, and sub-machine guns. It's also suitable for sharpshooter rifles with an x2 and x4 digital zoom.
The sight can detect man-sized targets at up to 900 meters. Output can be fed to a remote screen or recording equipment via its "video out" feed. Storing up to three user-configured sighting reticules and requiring a warm-up time of less than five seconds, the NOA NYX can operate continuously for 7 hours using four "AA" batteries. The NOA NYX is the latest addition to the NOA family of sights that includes NOA x4, NOA x7, and NOA DUAL FIELD.