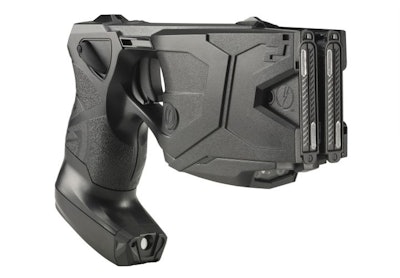 TASER International, Inc. has begun shipping its TASER CAM HD recorder for the TASER X2 electronic control device (ECD), the Scottsdale, Ariz., company announced.
The TASER CAM HD recorder provides agencies with invaluable video evidence to protect officers from false complaints, provide officer and suspect accountability, and increase transparency within communities.
"Our new technology provides color HD video versus black and white video, a two-fold increase in enhanced audio recording, and a more robust and weather resistant system in comparison to our TASER CAM for the TASER X26," said Rick Smith, TASER's chief executive and founder.
The TASER CAM HD recorder provides improved audio and 720p HD color video in a smaller, more robust form factor compared with the original TASER CAM for the TASER X26 ECD.
The TASER CAM HD recorder retails for $499.95. For $524.95, the TASER CAM HD arrives with the Auto Shut-down (AS) feature that emits an audible alert three seconds into the X2's output cycle. It shuts down automatically at the end of its five-second cycle.
The X2, which was introduced in April, gives officers a second shot to recover from a miss, dual lasers for improved accuracy, and a warning arc that helps prevent conflicts from escalating.
So far, TASER has shipped more than 52,000 TASER CAM recorders to 2,700 law enforcement agencies worldwide.