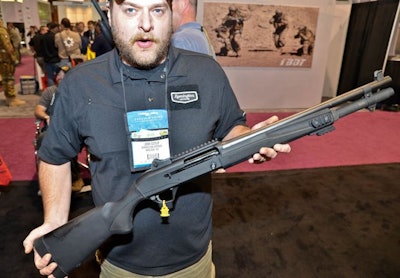 Remington's innovative R12P Tactical shotgun introduced at SHOT Show cycles any 12-gauge shell by using a gas system that measures the length of the casing.
This versatile semi-auto shotgun for officers uses a system that regulates gas pressure based on shell length to ensure smooth cycling of shells into the receiver.
Remington is producing the gun in four models—22-inch barrel (8+1 capacity), 18-inch barrel (6+1), 14.5-inch barrel (5+1), and a 12-inch barrel (4+1).
The gun's versatility carries over to its removable Picatinny rails that can be mounted at the three, six, and nine o'clock positions.
Other features include an extended SuperCell butt pad that reduces recoil by 20% and an oversized reversible safety button. The gun can be configured with rifle, bead, or ghost-ring sights.