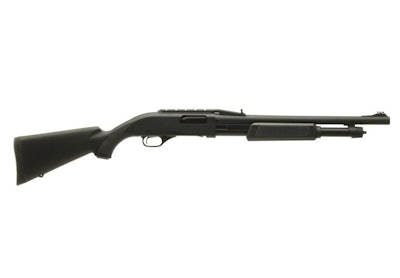 FNH USA re-entered the pump-action shotgun market today by announcing the introduction of the FN P-12, which will be available later this year.
The Belgian firearm maker will offer the pump gun as a complement to the FN SLP auto-loading shotgun. Ken Pfau, FNH USA's senior vice president of law enforcement and commercial sales, called the P-12 a "do-it-all tactical shotgun."
The FN P-12's offers 5+1 capacity with a matte black finish over anodized aluminum. The 18-inch cantilever barrel is chrome-lined and arrives with an "improved cylinder" stainless steel choke tube. The company offers "interchangeable standard invector" choke tubes as accessories.
The FN P-12 arrives with a fiber-optic front sight and flip-up iron sight for rapid target acquisition and precise aiming. A Weaver rail pattern allows mounting of additional optical accessories.
FNH will begin shipping the P-12 to distributors in August. It will retail for $655.
Related: