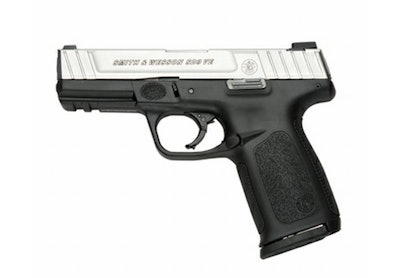 Smith & Wesson Corp. has introduced the SD9 VE and SD40 VE semi-auto pistols for "self protection and home defense needs," according to the company.
S&W is marketing the pistols, which are chambered in 9mm and .40 S&W, as a next-gen hybrid of their SD and Sigma pistols.
"With the introduction of the new SD9 VE and SD40 VE pistols, we have taken the best features of the SD and Sigma pistols and evolved them into a new generation of firearms that meet our customers' requirement in terms of both functionality and price," said Mario Pasantes, senior vice president of marketing and global professional sales.
The foundation of each SD VE pistol is based on a lightweight polymer frame, designed for greater comfort and durability. On the stainless steel slide, the SD VE pistol features a distinctive two-tone finish along with aggressive front and rear slide serrations. The pistols arrive with S&W's Self Defense Trigger (SDT) that provides a smooth, consistent pull and helps enhance accuracy, according to the company. The SD VE arrives with a white-dot front sight and a white two-dot rear sight.
For optimal comfort and control, the SD VE pistol has been fitted with an 18-degree point of aim and ergonomic grip with aggressive front and back strap texturing. The pistols also arrive with a textured finger locator directly above the trigger guard on the left and right side of the frame. A Picatinny rail is also standard.
The SD9 VE is available with either a 16+1 or 10+1 round capacity while the SD40 VE is standard with either a 14+1 or 10+1 magazine capacity. Both pistols have an unloaded weight of 22.7 ounces and a slender width of 1.29 inches. They have a 4-inch barrel and an overall length of 7.2 inches.
Each pistol comes with two magazines. The pistols retail for $379.