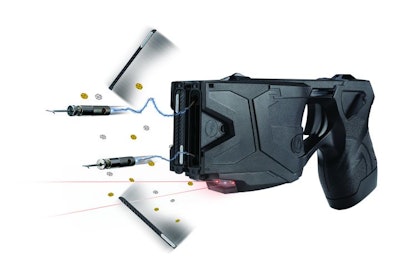 TASER International, Inc. announced several significant orders for its new TASER X2 electronic control device (ECD). Many of these orders were purchased using the TASER X26 trade-in offer, according to the company.
"In today's challenging economic times, it's important for law enforcement to justify every purchase," said Rick Smith, CEO of TASER International, in a release. "We understand the struggles agencies face in keeping equipment up to date. To assist these agencies, we recently extended our ECD upgrade at $250 per unit through June 2012 to ensure their officers have state-of-the-art equipment to maximize their safety."
The following agencies have ordered TASER X2 ECDs and are expected to ship in the second quarter of 2012:
Ventura County (Calif.) Sheriff's Department: 350 TASER X2 ECDs
Clark County (Nev.) Detention Center: 205 TASER X2 ECDs
Pennsylvania Game Commission Wildlife Habitat: 200 TASER X2 ECD
Shawnee County (Kan.) Sheriff's Office: 99 TASER X2 ECDs
Wake County (N.C.) Sheriff's Office: 96 TASER X2 ECDs
Oregon State Police: 70 TASER X2 ECDs
Kansas Turnpike Authority: 50 TASER X2 ECDs
Gwinnett County (Ga.) Police Department: 54 X2 ECDs
Aventura (Gla.) Police Department: 33 TASER X2 ECDs
Oregon Health and Science University Department of Public Safety: 32 TASER X2 ECDs
Northlake (Ill.) Police Department: 27 TASER X2 ECDs
Oakdale (Minn.) Police Department: 13 TASER X2 ECDs
Tewksbury (Mass.) Police Department: 11 TASER X2 ECDs
Largo (Fla.) Police Department: 10 TASER X2 ECDs
The TASER X2 was launched in 2011 as TASER's next generation ECD which provides a second shot capability, charge metering for improved safety, Trilogy Logs with detailed firing and electrical pulse information, automatic shut off ability, compatibility with TASER CAM HD audio/video camera system, and free data upload access via Evidence.com.