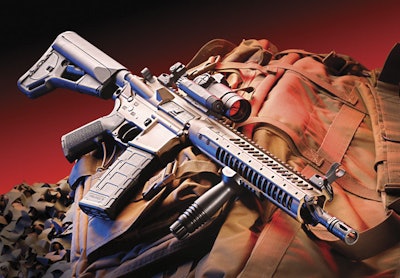 Editor's note: View our LWRC M6A2 photo gallery for extended coverage of this rifle.
They say first impressions mean a lot. If this is true, then I had several reasons to be incredibly impressed when I removed the LWRC International M6A2 Special Purpose Rifle (SPR) from its box.
The first feature that I noticed on this rifle was the spiral barrel, which reduces the M6A2 SPR's weight by 20%. Because of its spiral barrel and its unique rail system, the M6A2 SPR is very lightweight and easy to wield. Of course, the weight and balance of this rifle will change once it is equipped with a loaded magazine and a few accessories, but when you start with a lightweight platform you can keep the weight down even after the rifle is loaded and the accessories are added.
Another thing that I noticed immediately about the M6A2 SPR is that it uses a gas-piston operating system. It's been my experience that the average law enforcement officer rarely if ever thinks about the maintenance issues that he or she will be required to address once a certain amount of ammunition is fired through a patrol or tactical rifle. The mid-length gas-piston design of the M6A2 SPR means that the rifle does not need as much cleaning and maintenance as a standard direct-impingement M4.
Beyond Mil-Spec
Most tactical rifles are made with Mil-Spec parts or parts that are required by a government contract to meet the standards of a U.S. military main battle rifle. And that inspires confidence in their reliability. LWRCI builds its rifles and carbines to go beyond Mil-Spec requirements.
LWRCI rifles and carbines are manufactured using techniques and special applications that produce a firearm that will last longer than the average 5.56mm M4 Carbine or a 7.62mm NATO caliber rifle that is made of carbon steel and has a traditional phosphate finish.
LWRCI treats its hammer-forged barrels with a Nicorr surface finish. This finish enhances the integrity of the rifling while ensuring the exceptional strength of the completed barrel. The finish also improves barrel life and accuracy.
The LWRCI M6A2 SPR also features a patented nickel alloy coating by EXO Technology that is applied to their bolts, bolt carriers, bolt extensions, hammers, and triggers. EXO Technology's coating is a greaseless application that provides permanent lubricity to the rifle's critical internal parts.
In addition, all LWRCI 5.56mm rifles feature the Advanced Combat Bolt (ACB), which has the EXO Technology coating on all parts, including a fully supported bolt face and a whale tail extractor that features two springs (instead of one) on a Mil-Spec bolt. The Advanced Combat Bolt has a groove in the bolt face that is designed to prevent dirt or brass shavings from fouling the rifle. This is important because fouling can prevent a bullet from being properly loaded into the chamber.
LWRCI barrels are designed to last for 20,000 rounds. The average carbon steel Mil-Spec M4 barrel will on average remain operational for approximately one-third of the projected lifespan of a LWRCI barrel. LWRCI also recommends replacing springs every 10,000 rounds. But the ACB is designed to remain in functioning condition through 20,000 rounds. I found it even more amazing that according to LWRCI the company's testers have never worn out one of its Advanced Combat Bolts. They even say they have reliably operated their ACB with one spring as well as with a single half of one spring.
The LWRCI M6A2 SPR sports a very advanced set of fold-down front and rear iron sights. My test rifle had a 14.7-inch barrel with a permanently attached A2 Birdcage flash hider that brings the barrel length up to a legal 16 inches. The combination makes it look more like a short-barreled rifle than a standard semi-automatic M4.
LWRCI uses an ingenious weight-saving system to attach individual rails to its rifles. Instead of using a conventional quad rail system, LWRCI manufactures the M6A2 SPR as well as its 7.62mm NATO caliber REPR rifle with a metal forend that has a liberal number of holes drilled in strategic locations that can be used to install small individual accessory rails.
The M6A2 SPR comes with two individual rails that can be used to install a forward vertical grip and a tactical light. A third individual rail is also provided that is specifically designed to accommodate a quick release sling mount. Included in this add-on rail is a small wrench and set of screws to ensure the proper installation of each individual rail to your rifle.
Going to the Range
The first order of business was to sight the M6A2 SPR in at 50 yards using a mixture of 55-grain FMJ Winchester and Federal ammunition. While shooting from a braced sitting position, I engaged a target using the back-up folding front and rear iron sights and scored a hit after firing the first round. To make sure this was not a lucky shot, I repeated this process and fired several follow-up shots that were all on target. I then sighted in the rifle using my Aimpoint Comp M4 red dot optic.
Real world shootings do not usually take place from a sitting position, so I engaged various targets from an unsupported standing position at a distance of some 50 yards. I found that the M6A2 SPR is not only incredibly accurate but also the softest shooting M4 that I have tested to date. The mid-length gas piston system lets the shooter deliver incredibly fast and accurate follow-up shots. I proved this when I advanced on a TQ19 target and drilled a tight group of several rounds into the throat area in rapid fire succession.
During a second range session, I shot more 55-grain Winchester FMJ ammunition through the M6A2 SPR test rifle at various engagement distances. Again the M6A2 SPR M6A2 SPR proved to be smooth shooting, dead nuts accurate, flawlessly reliable, and easy to wield.
Whether you are delivering precision shot placement or dumping one magazine after another as fast as possible into a target, the mid-length piston-powered LWRCI M6A2 SPR will do the job.
Nick Jacobellis is a medically retired U.S. Customs Agent and a former police officer who was physically disabled in the line of duty while working as a federal agent.
LWRC International M6A2 Special Purpose Rifle Specs:
Caliber: 5.56mm NATO
Capacity: 30 rounds
Magazine: Magpul
Operating System: Mid-length gas-piston
Weight (empty): 7.2 pounds
Overall Length: 33.5 inches
Barrel Length: 14.7 inches
Rifling: 1:7 inches, right-hand twist
Muzzle Device: A2 Birdcage 1/2x28 TPI
Stock: LMT SOPMOD/Magpul MIAD
Sights: LWRCI folding BUIS front and rear
Colors Available: Black, flat dark earth, olive drab green, Patriot Brown
Price: $2,629
Related: