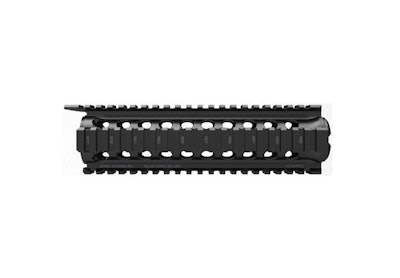 Daniel Defense has introduced its EZ CAR Rail 9.0, a replacement option for hand guards on AR-type rifles with mid-length gas systems, according to the company.
The EZ CAR Rail 9.0 requires no special tools or modifications to the rifle to install. Its two-piece, non-free float design mounts to a standard delta ring and hand-guard cap of a mid-length gas system with no modifications to the host weapon. And like the EZ CAR Rail 7.0, its overall width accommodates most AR-15 accessories. The accessory is compatible with round or triangular hand-guard caps.
The EZ CAR Rail 9.0 is precision machined from aerospace grade 6061-T6 aluminum, and finished with military specification Type III hard-coat anodizing. The EZ CAR 9.0 measures 9.2 inches long, 2.4 inches wide, has an inner diameter of 1.38 inches, and weighs 12.4 ounces.