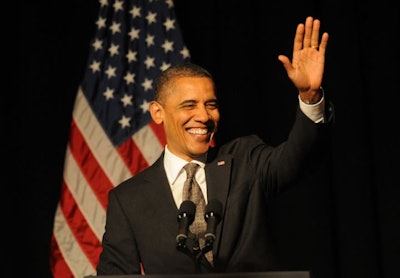 President Obama enlisted selected law enforcement leaders Monday to keep the political pressure on Congress to pass new gun-control legislation as a response to three public shootings.
On Monday, Obama met with the police chiefs of the communities of Newtown, Conn.; Aurora, Colo.; and Oak Creek, Wis. Officers responded to the worst shootings of 2012 in those towns.
"Hopefully if law enforcement officials who are dealing with this stuff every single day can come to some basic consensus in terms of steps that we need to take," he told the Associated Press. "Congress is going to be paying attention to them, and we'll be able to make progress."
Obama also met in the White House's Roosevelt Room with members of the Major Cities Chiefs Association and the Major County Sheriffs Association, including U.S. Attorney General Eric Holder, Minneapolis Police Chief Janee Harteau, and Hennepin County (Minn.) Sheriff Richard Stanek.
Obama has urged Congress to ban assault weapons and high-capacity magazines. He has proposed additional funding to hire officers to guard schools and urged Congress to address mental health issues.