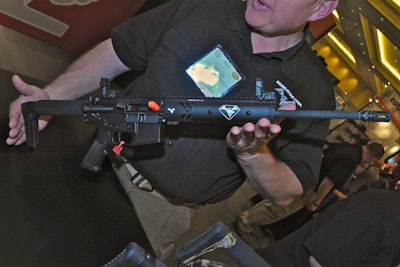 DoubleStar Corp. introduced a lightweight AR-15 called the Constant Carry Carbine at SHOT Show that significantly reduces gear load for tactical operators, a company rep told POLICE Magazine.
The rifle is built with "aluminum and steel in the right places" to talke the load off tactical officers, said DoubleStar's Don Alwes. The Constant Carry Carbine, which is also called the "C3," weighs 5.5 pounds unloaded.
The rifle includes a "pencil" 16-inch barrel that is slimmer than traditional ARs; the barrel was used on the first M-16s that were issued to Vietnam War soldiers. An ultralight non-colapsible stock includes foam padding. The rifle includes a free-float aluminum hand guard. Three Picatinny rail sections allow various mounting configurations for lights or optics.
The company is now taking orders for the rifle, which retails for $1,222.