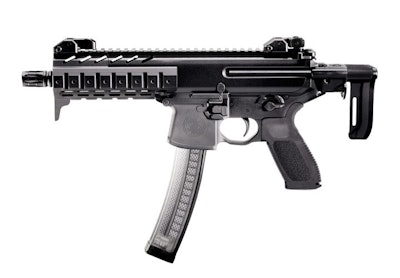 SIG Sauer will produce a piston-driven select-fire subgun that runs three pistol calibers in an attempt to revive a stagnant firearm category, the company announced at SHOT Show.
Using a short-stroke gas piston system, the SIG MPX can accept 9mm, .40 S&W, and .357 SIG rounds via proprietary 10-, 20-, or 30-round magazines. In fully auto mode, the MPX can cycle 850 rounds per minute.
In look and feel, the MPX more resembles an AR-type rifle rather than the Heckler & Koch MP5 subgun. This design choice was deliberate to ease training for officers trained on an AR rifle, according to SIG.
SIG will produce four law enforcement only versions of the MPX. The standard SIG MPX is a 6.5-inch-barreled subgun. The SIG MPX-SD arrived with an integral supressor. The SIG MPX-K is a compact variant with a 4.5-inch barrel. A select-fire pistol version with a 6.5-inch barrel rounds out the models.
SIG will also produce the SIG MPX-C, a semi-auto varient with a 16-inch barrel, and the SIG MPX-SBR, a 6.5-inch short-barreled rifle. Buyers would be required to obtain an NFA tax stamp for $200.
The MPX includes a collapsing buttstock. A folding stock will be available as an option. The self-regulating gas system enables the feeding of a variety of ammunition, such as frangible, subsonic, or high-velocity.
The civilian versions (SBR, pistol, or 16-inch carbine) will retail for between $1,800 and $2,100.
Related:
Select Fire Carbines vs. Submachine Guns