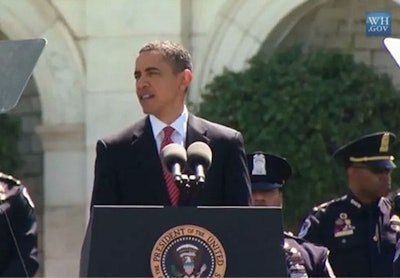 Accompanied by children who wrote letters to the president about last month's Sandy Hook Elementary School shooting in Newtown, Conn., Obama announced his plans to reduce gun violence with 23 proposals.
He said he is a firm believer in the Second Amendment, but that the proposals he hopes Congress will incorporate into legislation constitute a common sense approach to the challenge at hand.
Proposals include universal background checks for every gun buyer as well as bans on assault weapons and magazines that hold more than 10 bullets. He called on Congress to "help, rather than hinder, law enforcement as it does its job," by instituting tougher punishments for illegal arms trafficking and to put more law enforcement officers on the streets.
In reference to recent shootings the president said, "We will help schools hire more resource officers if they want them, and develop emergency preparedness plans. We will make sure mental health professionals know their options for reporting threats of violence, even as we acknowledge that someone with a mental illness is far more likely to be a victim of violent crime than the perpetrator."
The total cost of the president's proposals was estimated at $500 million. It was not mentioned how they would be paid for.