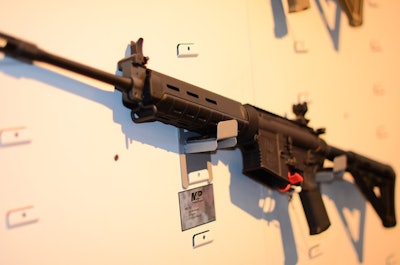 Smith & Wesson introduced a pair of .308-chambered tactical rifles at SHOT Show based on the M&P15 models.
The M&P10 and M&P10 MOE (with Magpul accessories) represent the company's first foray into the larger-caliber rifle market, a company rep told POLICE Magazine.
The rifles arrive with a 18-inch barrel that company reps said offer a middle ground to shorter 16-inch barrels and longer 20-inch barrels.
The rifles offer ambidextrous controls such as a magazine release and bolt catch. They arrive with a flash hider. The rifles are optic-ready, meaning they don't ship with an optic.
The M&P10 MOE offers Magpul accessories such as a pistol grip, forend, and PMAG. It also included Troy flip-up iron sights. The rifle will retail for approximately $1,600 while the standard version will sell for about $1,500. Both rifles will ship mid-year.