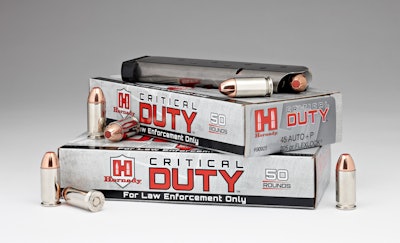 Hornady Manufacturing has introduced a .45-caliber auto +P Critical Duty round for law enforcement designed to stop threats without overpenetration, the company announced.
The 45 Auto+P, 220-grain round delivers a muzzle velocity of 975 feet per second with 464 ft.-lbs. of energy.
The projectiles were fired into media such as bare gelatin, wall board, heavy clothing, plywood, sheet metal, and glass using FBI ballistic testing protocols. In testing, the round reached almost 18 inches penetration in gelatin simulating sheet metal and 13 inches in gelatin simulating wall board.
Hornady introduced the Critical Duty line in 2011 with rounds available in 9mm, 138-grain; 9mm +P, 135-grain; and .40 S&W, 175-grain. Critical Duty builds on Hornady's Critical Defense line by incorporating its Flex-Tip rubber bullet that aids expansion after impact.
The new projectile ("FlexLock" in Hornady parlance) uses the Flex Tip bullet wrapped in a metal band (the "InterLock") that keeps the bullet and core from separating. The projectile reacts differently depending on the barrier it encounters, according to Hornady.
Related: