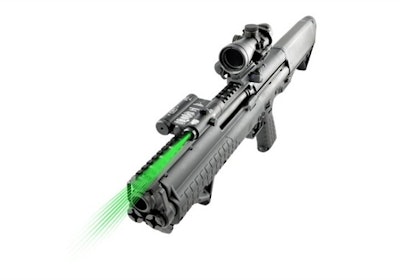 LaserLyte has introduced the Kryptonyte Center Mass (CM-15) green-laser sighting system for rifles and shotguns that provides a ring of green laser dots, the company announced.
The CM-15 projects a ring of eight green laser dots with one green laser dot in the center as the aiming laser. The circle grows at one-inch per yard, approximately the same configuration as a shotgun aimed at a moving target. The green laser, which aids in daylight visibility, gives the user the advantage of a wide field of view while using both eyes for aiming, according to the company.
The laser, which weighs 5.4 ounces, has a recessed activation selector that can be changed to off, constant on, or momentary on. The remote switch is used with the 10-inch length, 2-inch tape switch area with copper braided cord.
The Kryptonyte Center Mass laser is made from aircraft grade 6061 aluminum with a T3 hardness, and black anodized to Level 2 hardness. The laser is fully adjustable with hex drive screws protected by sealed turret caps. The offset design of the CM-15 allows for a variety of mounting options.
The CM-15 requires one CR-123 battery that provides six-hour operation. It retails for $284.95.