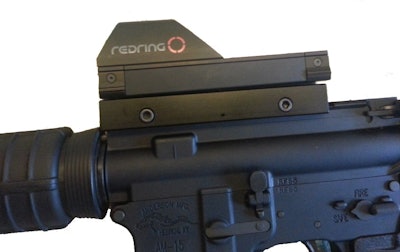 Redring USA has introduced the Redring Picatinny Rail Adaptor that fits on any tactical shotgun or rifle with a Picatinny rail. The adaptor is made of rugged anodized aluminum and quickly mounts on any Picatinny rail platform with just two screws, according to the company.
The adaptor doesn't affect the balance of the gun or the user's visual plane. The Redring sight allows officers to keep both eyes open while performing room clearing scenarios.
Attached to any patrol or tactical shotgun or rifle, the Redring sight provides officers or security professionals the added edge in a fast paced environment where individual officers are performing room entries or moving through close quarters.
Another important feature of the Redring sight for law enforcement or security operations is the sight adapts to light conditions. In low light, the ring light is weaker and during bright sunlight the ring light is stronger and more visible.
The Redring was originally introduced to help beginner and seasoned shotgun shooters hit more targets successfully through acquiring a better sight picture on a moving target. The Redring is not a sight for aiming but for fast, instinctive shooting by providing the user with another reference point to confidently hit the target, according to the company.